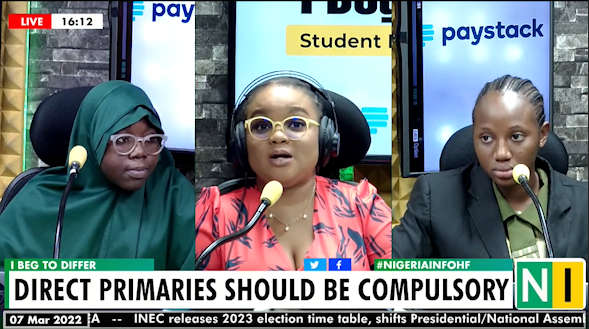 The second edition of the 'I Beg To Differ' student debate began on Monday on Nigeria Info's Hard Facts.
The tournament made up of sixteen contestants began with 15-year-old Debrah Pamzat and 15-year-old Sumayyah Animashaun going head-to-head in the first round.
Both contestants debated the topic, 'Should Direct Primaries be Compulsory?'
Sumayyah, who supported the motion, insists in her argument that Direct Primaries is the best option for Nigeria as it helps curb corruption.
She added that Direct Primaries gives party members a sense of belonging.
On her part, Debrah Pamzat who opposes the motion revealed that "Indirect Primaries is less cumbersome in terms of management."
She insists that Indirect Primaries should be made compulsory for Nigeria as it is less expensive to run, compared to Direct Primaries
Having weighed arguments from both contestants, the panel of judges decided that Debrah Pamzat came out top, hence progressing to the next round of the tournament.
The second debate of the day, saw 16-year-old Clement Braimoh progressing to the next round of the tournament after defeating 16-year-old Justin Obatarhe.