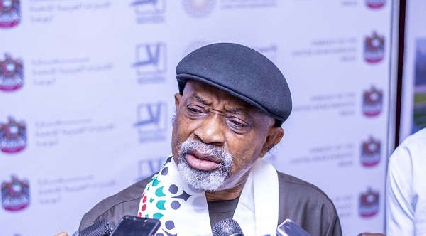 The Federal Government has approved the registration and certification of two breakaway factions of ASUU.
The unions are the National Association of Medical and Dental Academics (NAMDA) and the Congress of Nigerian University Academics (CONUA).
The Minister of Labour and Productivity, Chris Ngige, explained that the two bodies will coexist with ASUU.
Ngige had, through the Deputy Director of Press and Public Relations, Federal Ministry of Labour and Employment, Oshundun Olajide, sent an invitation to reporters.
The invitation by the Ministry of Labour reads: "The Honorable Minister of Labour and Employment, Dr. Chris Ngige cordially invites you to the recognition and presentation of Certificate of Registration to the Congress of Nigerian University Academics (CONUA).
"The Programme is scheduled to hold as follows:
"Date: Tuesday, 4th October 2022
"Venue: Hon. Minister Conference Room, Federal Secretariat, Phase 1, Abuja.
"Time: 2:00pm
"Your media organisation is invited to cover the event and strictly by invitation."
CONUA currently boasts of presence in a few federal universities and is led by its National Coordinator, 'Niyi Sunmonu, a lecturer at the Obafemi Awolowo University (OAU), Ile-Ife.
ASUU embarked on industrial action on February 14 to push for an improved academic environment and the welfare of its members.
Some of the lecturers' demands are:

• The adoption of its proprietary University Transparency and Accountability Solution (UTAS) in paying the wages of lecturers, rather than the Integrated Payroll and Personnel Information System (IPPIS) used for paying other federal government workers.
• The publication of the white papers on visitation panels to federal universities.
• The release of the balance of one tranche of the Revitalization Fund.
• The release of two outstanding tranches of the Earned Academic Allowances (EAA).
• And an amendment to the law of the National Universities Commission (NUC) to check the proliferation of universities, especially by state governments.
The federal government filed a suit before the industrial court to halt the ASUU strike following repeated failures by both parties to reach a workable agreement.
Despite a ruling by the National Industrial Court on September 21, 2022, ordering the university to return to work, the university lecturers have remained adamant.
Last week, ASUU through its lawyers, filed an appeal against the court ruling.