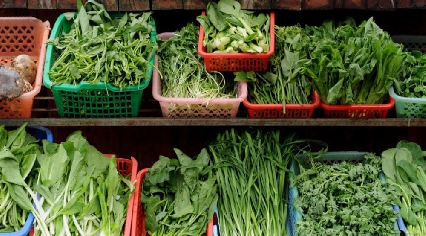 Cancer survivor and author, Ololo Emurovwe Abeke says vegetables and a proper diet play a very important in the treatment of cancer. 
She narrated how vegetables aided her treatment of cancer.
''When you blend your vegetable, you do not filter it.
"You eat the roughage as if you are eating chin-chin, it is not sweet but you eat it, it is filling.
"And because it is not something that is palatable you continue gulping down with water.
"When you take roughage, it will fill your stomach up, it is very filling and energizing.''
Ms Abeke who was speaking as a guest on Nigeria Info's Morning Crossfire also emphasized the need for cancer patients to be disciplined in their choice of food.
Her diet has remained the same even after recovering from the disease.
She advised cancer patients and survivors to avoid foods that acidify the body.
"Reduce your sugar intake, your indulgence.
"If food can cause the disease, food can also reverse the disease," she emphasized.
"Take food that would alkalize your body and reduce the food that will acidify the body because cancer cells grow inside acidic environments."
She noted however that the change of diet is not "palatable".
"It is actually mostly our diet that causes cancer.
"So If your diet can cause cancer; your diet can also reverse it but the things are difficult.
"The truth is you smell food anywhere you go; you see food everywhere you go to.
"But you cannot eat them, just because you have to discipline yourself not to eat them."