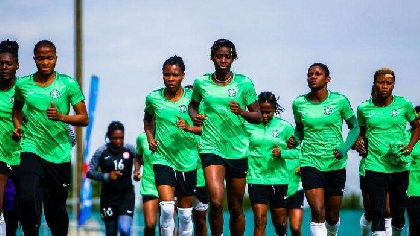 A man who claimed to be Nigerian directed abuses at the girls for representing their country.
The identity of the man who harassed the Super Falcons on a train in Austria on Tuesday will be revealed. This is according to the Nigeria Football Federation.
Amidst the Super Falcons trip to Australia in preparation for upcoming international engagement, a video surfaced on social media on Tuesday, showing the Super Falcons team uncomfortably reacting to the inflammatory political remarks of an unidentified man who claimed to a Nigerian on a train ride to the city center in Austria.
As this video continues to make the rounds, the NFF has come out to condemn the act and also opened up on the initiated plans to unmask the self-acclaimed Nigerian.
According to the NFF in a statement, team officials confirmed the team opted for a train ride after their morning training session to take in the view of the city and decided on public transport.
However, a man who claimed to be Nigerian directed abuses at the girls for representing their country.
Speaking in a statement, NFF president Amaju Pinnick said, "We are infuriated. These are young ladies who are our
ambassadors and are there in Austria preparing for major international
competitions."
"That was a dastardly act by that fellow and we are not taking it lightly. The girls simply wanted to go on sightseeing and
there is nothing wrong with that."
He added, "They do not deserve to be subjected to such diatribe by a so-called fellow Nigerian. We will unmask the fellow and then take it from there."
While confirming that the man was removed from the train at the next stop, Nigeria's FIFA match agent Jairo Panchon told the.nff.com the matter had been reported to the Embassy of Nigeria and the Austrian Police.
He said, "It is unfortunate. The girls were on the way to the city centre which was just a few minutes from the hotel."
"We have never had this kind of case with any of our teams and lessons have been learnt and we will be guided
appropriately going forward."
He added, "This incident will not in any way affect the team's camping programme and they will remain in Austria until Saturday, 24th July as
scheduled."