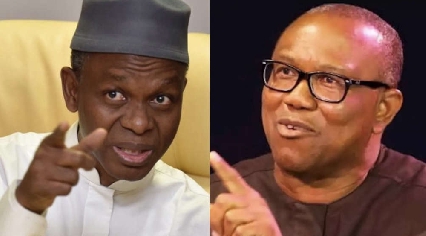 The Governor of Kaduna State, Nasir El-Rufai says the presidential candidate of the Labour Party, Peter Obi stands no chance of winning the presidential election.
El-Rufai while speaking during a television interview, noted that "the fact that you're doing 70 percent in Anambra state does not mean somebody doing 10 percent in Kano is not better than you."
"Kano is four million votes that actually happen. The number of votes in Anambra is the size of one local government area in Kaduna state, he added.
In his view, "Peter Obi will sweep the South-Eastern states; he will do well in the South-South; where else? He's not polling well in the South-West other than a drop in the ocean in Lagos."
Speaking further, El-Rufai noted that "Peter Obi is a Nollywood actor and that's all he will be. This election is between the APC and PDP because they have the footprint; they have the spread."