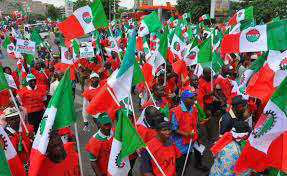 The Nigeria Labour Congress (NLC) is set to embark on a nationwide strike on Wednesday.
This is coming amid shortages and increase in the price of petrol following President Bola Tinubu's announcement that "fuel subsidy is gone".
The NLC president, Joe Ajaero, announced this shortly after an emergency meeting of the union's National Executive Council (NEC) in Abuja.
According to him, the federal government and the Nigerian National Petroleum Company (NNPC) Limited have until Wednesday next week to revert to the old prices of petrol.
He noted that the failure of the government to meet the ultimatum would attract an indefinite protest across the country.