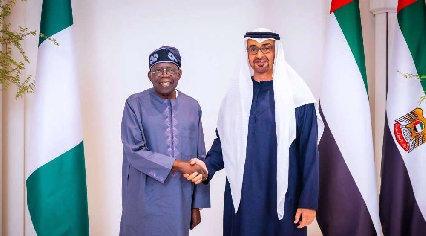 The United Arab Emirates (UAE) has lifted its visa ban on Nigerian travellers.
The decision follows the meeting between President Bola Tinubu and UAE President, Mohamed bin Zayed Al Nahyan, in Abu Dhabi on Monday.
President Tinubu's Special Adviser on Media and Publicity, Ajuri Ngelale, noted in a statement that Etihad and Emirates Airlines will immediately resume flight schedules to and from Nigeria.
"In recognition of President Tinubu's economic development diplomacy drive and proposals today presented by President Tinubu to his counterpart, an agreed framework has been established, which will involve several billions of U.S. dollars worth of new investments into the Nigerian economy across multiple sectors, including defence, agriculture and others, by the investment arms of the Government of the United Arab Emirates," he disclosed.
"Additionally, President Tinubu is pleased to have successfully negotiated a joint, new foreign exchange liquidity programme between the two Governments, which will be announced in detail in the coming weeks."
Recall that President Tinubu departed the capital of India, New Delhi on Sunday for Abu Dhabi in the United Arab Emirates (UAE) to interface with the country's leadership on several diplomatic issues.