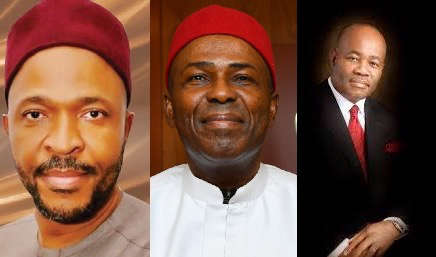 Nwajiuba, Onu, Akpabio
Three Ministers have tendered their resignation following President Muhammadu Buhari's directive at Wednesday's Federal Executive Council (FEC).
They include the Minister of State for Education, Emeka Nwajiuba; and the Ministers of Niger Delta Affairs, Godswill Akpabio; and Science, Technology, and Innovations, Ogbonnaya Onu.
President Buhari had asked all cabinet members who are seeking elective posts in the 2023 General Election to resign.
"All members of the Federal Executive Council aspiring to run for office, either be it president or governor or National Assembly, must resign from cabinet, effectively by the 15th… Sorry, by the 16th, which is Monday of this month," Information Minister, Lai Mohammed announced at the end of the FEC meeting.
All the three Ministers who resigned Wednesday are seeking to become the President of Nigeria.
Akpabio and Onu will be succeeded by the Ministers of State in their ministries.
Amaechi, Ngige, Sylva, Tallen, Ogah and Malami Yet to Resign
Other cabinet members who had declared interest in elective offices but are yet to resign are the Ministers of Transportation, Labour and Employment, Women Affairs and Justice; as well as the Ministers of State for Petroleum, and Mines and Steel.
The Minister of Transportation, Rotimi Amaechi was absent at the FEC meeting when President Buhari gave the directive, but he is expected to resign before Monday.
A source confirmed to Nigeria Info that he would tender his resignation soon.
The Minister of Labour and Employment, Chris Ngige said he would consult with his constituents before making a decision.
The other Ministers are yet to disclose whether they would be resigning or dropping their political aspirations.
Both Amaechi and Ngige had declared interest in the presidency.
The Minister of State for Petroleum, Timipre Sylva also wants to succeed President Buhari.
On the other hand, the Minister of Women Affairs, Pauline Tallen is seeking a ministerial position in Plateau State.
The Minister of Justice, Abubakar Malami and the Minister of State for Mines and Steel, Uche Ogah both want to be governors in Kebbi and Abia States, respectively.