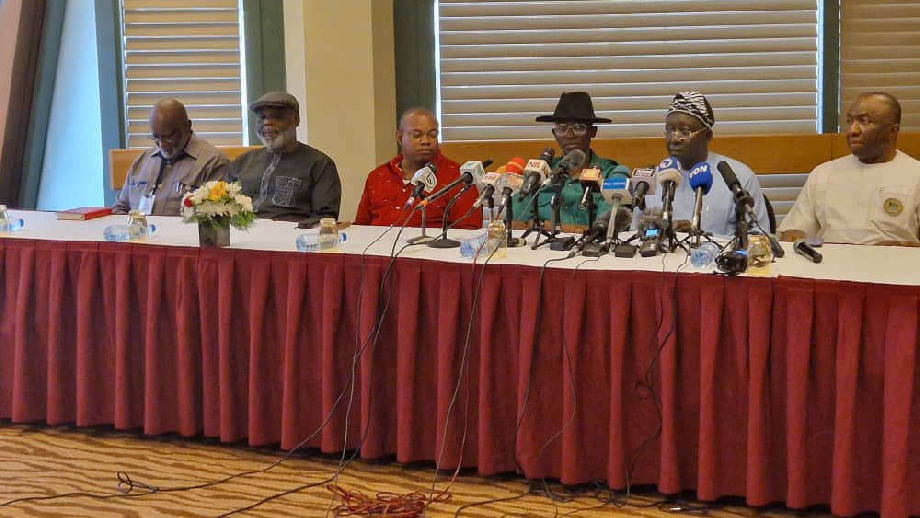 Three of Nigeria's biggest opposition parties are calling for the cancellation of Saturday's presidential election.
The People's Democratic Party, the Labour Party, and the Africa Democratic Congress addressed a joint news briefing in Abuja on Tuesday accusing the Independent National Electoral Commission (INEC) of allocating votes rather than collating them.
"The conduct of the February 25, 2023 election has been marred by widespread violence, rigging, intimidation of voters, doctoring of the results, and violation of the laid down electoral process which was communicated by the national electoral body, INEC," the parties said.
"INEC had announced a process which would require the use of the Bimodal Voter Accreditation System (BVAS) for accreditation and voting and that all election results would be electronically transmitted from polling units to INEC Servers.
"The above process, published repeatedly, announced, and agreed with INEC by all political parties was not followed, thereby leaving room for manipulation of the results after Nigerians had voted."
The chairman of the LP, Julius Abure, referred to the Electoral Act which deals with the electronic transmission of results.
"Section 60 sub-section 5 of the Electoral Act says that the presiding officer shall transfer the results, including the total number of accredited voters and the results of the ballots in a manner as prescribed by the commission," he said.
"A failure to comply with the provisions of the Electoral Act and the guidelines makes it imperative that all results recently uploaded on the IReV portal must be updated before they are announced.
"INEC went back on that promise. This election is not free and far from being fair and transparent.
"We shall not be part of the electoral process currently going on at the National Collation Centre and we demand that this sham of an election be immediately canceled."
The parties called for a fresh election to be carried out by the law.
The LP National Chairman, Julius Abure, who delivered the position of the three opposition parties, said.
The parties also asked the chairman of INEC, Professor Mahmood Yakubu, to "step aside" from his role.
In addition, they called on President Muhammadu Buhari to intervene in the electoral process.