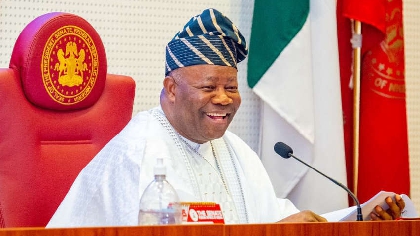 Senate President Godswill Akpabio on Tuesday announced the heads of some standing committees, including Appropriations, Public Accounts, Ethics, and Public Petitions and Establishment.
Speaking at the day's plenary session, Akpabio revealed the chair of the Appropriations Committee to be Senator Solomon Adeola, while the Public Accounts Committee would be headed by Senator Ahmed Wadada.
Senator Okechukwu Ezea will equally chair the Ethics and Public Petitions committee, which will have as its deputy, Senator Khalid Ibrahim Mustapha.
Making up the Public Accounts Committee will be Aliu Wadada Ahmed and Onyeka Peter as Chairman and Deputy Chairman respectively, while Sunday Karimi and Williams Eteng Jonah are Chairman and Deputy Chairman of the Senate Service Committees.
The National Security and Intelligence Committee will have as its chairman Shehu Buba Umar, with Asuquo Ekpenyong his deputy.
Other Special Senate Committee as announced by the Senate president include:
* Rules and Business — Titus Zam (chairman), Opeyemi Bamidele (deputy)
* Legislative Compliance — Garba Musa Maidoki (chairman), Ede Dafinone (deputy)
* Media — Adeyemi Adaramodu (chairman), Salisu Shuaibu Afolabi (deputy)
* Appropriations — Olamilekan Adeola (chairman), Ali Ndume (deputy)
Meanwhile, Senate President Godswill Akpabio read a letter addressed to the Senate seeking the confirmation of recently appointed service chiefs from President Bola Tinubu.
According to him, the entire senate at a date yet to be disclosed would screen the service chiefs in the senate chambers.
President Tinubu had last week also asked the House of Representatives to confirm the newly appointed service chiefs.