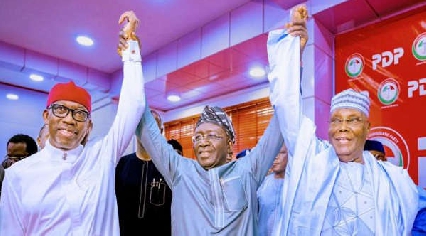 The Delta State Commissioner for Information, Charles Aniagwu has praised the emergence of Governor Ifeanyi Okowa as the vice-presidential candidate of the People's Democratic Party (PDP).
According to him, picking Okowa has given the party a great advantage over the others in the race to win the 2023 presidential election.

He is unsurprised by his principal's emergence, following his antecedents as a notable political leader in the South-South.
"Based on his track record and many other criteria; those are what the flagbearer and the party has considered.
"I want to thank God because he is the right man for the job to ensure PDP emerges victorious in 2023.
"The People's Democratic Party has made the right choice that will give them landslide victory in the 2023 elections."
Aniagwu debunked speculations that Gov. Okowa lacks the capacity and political following to rally the votes of the South-East and South-South regions for the PDP.
He affirmed that Okowa is more than whom people see.
"Senator Doctor Ifeanyi Okowa has what it takes to rally the support of his brothers in the South, whether in the South-West, South-South or South-East and also attract support from persons in the North.
"Okowa has always been a bridge-builder, Atiku also is a bridge-builder and unifier.
"Both of them working together will of course bring other members to work together for the success of the party," he said.