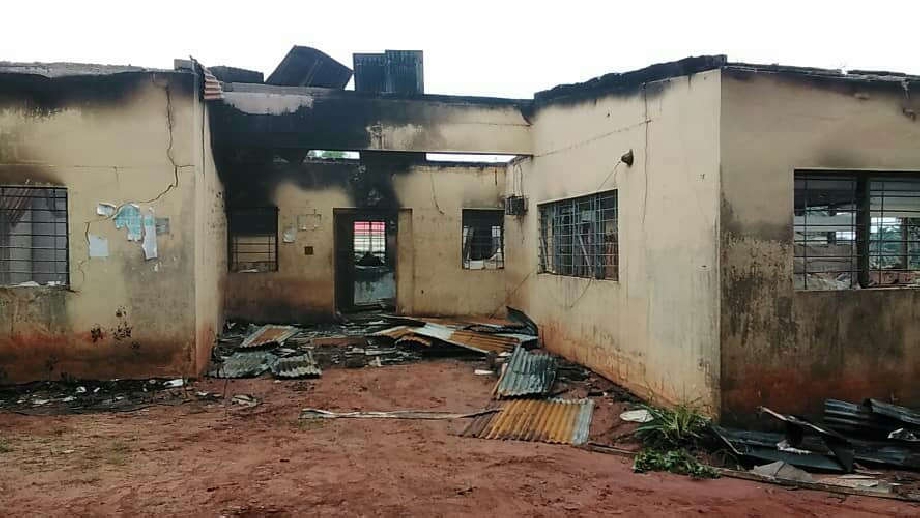 The Commissioner of Police in Enugu State, Lawal Abubakar, has ordered a thorough investigation into the fire that engulfed INEC's office in Igboeze North Local Government Area.
The fire gutted the building around noon on Sunday and INEC has blamed gunmen for it.
The commission's head of Information and Voter Education, Festus Okoye said 748 ballot boxes and 240 voting cubicles were destroyed in the inferno.
"The attack happened at about 11:48 pm on Sunday, July 3. The arsonists overpowered the security guards, forced their way into the premises, and set the building ablaze.
"Although no casualties were reported; 748 ballot boxes, 240 voting cubicles, office furniture, and equipment were destroyed in spite of the best effort of the Enugu State Fire Service deployed from Nsukka.
"The Commission is working to ascertain the status of voter registration machines for the ongoing Continuous Voter Registration (CVR) and uncollected Permanent Voters Cards (PVCs) locked up in the fireproof cabinet," he said in a statement issued on Monday.
The Enugu State Police Command, however, said the fire might have started from the back of the building.
A statement issued by the Police Public Relations Officer (PPRO), Daniel Ndukwe, in Enugu on Monday indicated that the inferno was put out by police officers and firefighters.
The PPRO said the area has been cordoned for preservation and further investigation into its cause.
The fire was not the first at an INEC office in Enugu State.
The commission suffered three infernos on its offices in May 2021.
On 13 May 2021, the commission's office in Udenu Local Government Area was torched.
The State Headquarters in Enugu city was attacked on 16 May 2021, and the office in Igboeze South Local Government Area was attacked by gunmen on 23 May 2021.