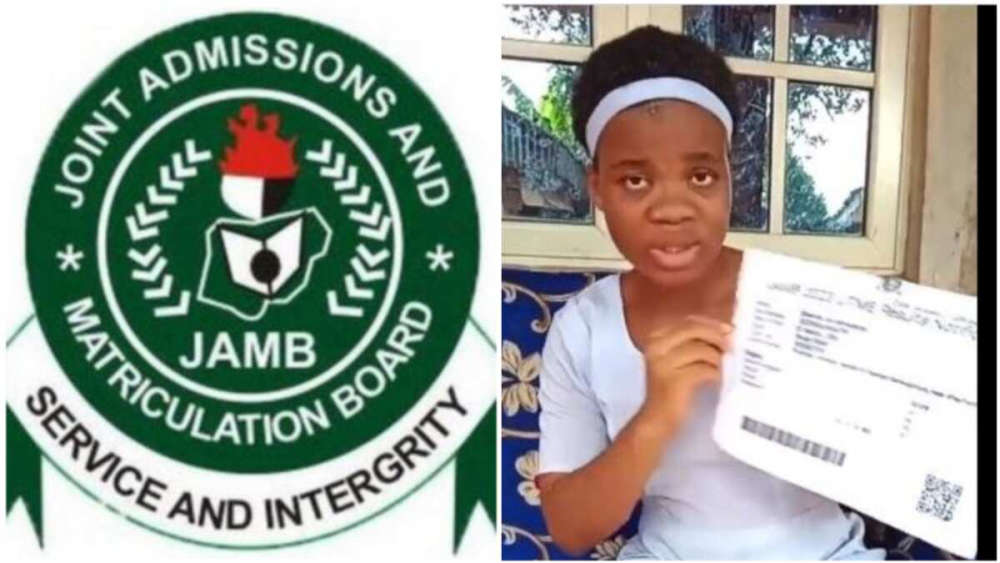 The Joint Admission and Matriculation Board (JAMB) has banned Mmesoma Ejikeme, who was accused of forging her 2023 Unified Tertiary Matriculation Examination result, from taking the board's examinations for three years.
The spokesperson of JAMB, Fabian Benjamin, disclosed this in a statement released on Tuesday. The board also insisted that Mmesoma forged her result adding that the board concluded high-level investigations before coming to the conclusion.
In a separate interview, Benjamin, disclosed that there are about seventeen security codes on the UTME result slip, and one of them is the QR code that will show the original owner of a slip when it is scanned.
He also explained that anyone who has a candidate with a 2023 result slip should check that the slip is different from what Mmesoma was holding.
"There is nothing wrong with the result in our system but the version that the candidate has mutilated," the JAMB rep said.
According to him: "It is practically impossible for us to know how many people are keeping such versions with them until they come to the public space".
Also, he said the examination body does not have a 362 UTME score in its database this year.
Hear him: "Every result that is printed from our system comes out with a QR code; a security device on that result.
"When I scanned the QR code on the slip she is holding with 362, I discovered that the QR code belongs to a candidate who sat the examination in 2021.
"As a matter of fact, there is no score 362 in our own system," he emphasised.
The JAMB Spokesperson also explained why it took a while for it to flag her.
According to him: "Some persons are even accusing us for coming to the public too early, that we should have done some undercover investigations to ensure that we arrest those people behind the whole thing given her age."
The clarification followed a viral video of the teenager showing her physical result to validate her acclaimed grade.
JAMB: Values Intact, Improve UTME Conduct – Stakeholder
Meanwhile, against renewed calls by some Nigerians for the scrapping of JAMB, a lecturer at the University of Port Harcourt, Edward Imo, says JAMB still has its values irrespective of the controversies surrounding the examination body.
Dr. Imo, in an interview with Nigeria Info, spoke of the need for JAMB to improve the conduct of the Unified Tertiary and Matriculation Examinations (UTME).
He also advised that UTME cut-off marks for candidates seeking admission into the University should no longer be benched below average.
"JAMB has its values there, just that it is being whittled down," the lecturer said.
"A score of 140 is less than half mark, so why recommend below average for University admission," he queried!
"They should raise the stakes; JAMB should step up her games," he added
On the Mmesoma Ejikeme saga, the academic said subjecting her UTME score to verification amid her top-scorer-claim was a move in the right direction.
Hear him; "JAMB is encouraging philanthropy and investment in brains but in the cause of doing that, people should not rely on online coinages that are not verified by JAMB itself."
The 17-year-old Ms. Ejikeme faced criticisms from some social media users after JAMB revealed that she scored 249 in the just concluded UTME as against her claims of a 362 score.
On the 8th of May 2023, she was awarded a N3million scholarship by the Chairman of Innoson Vehicles Manufacturing Company, Innocent Chukwuma, and almost clinched recognition by the Anambra State Government.