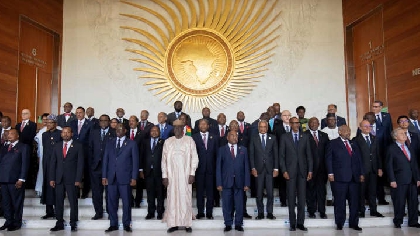 Embattled Niger has been suspended by the African Union (AU) with immediate effect.
The continental bloc on Tuesday in Addis Ababa said the West African country is suspended until there is a restoration of civilian rule.
AU's Peace and Security Council also stated there would be an assessment of the implications of any armed intervention in the country.
This suspension comes after President Mohamed Bazoum was dethroned from office by members of his presidential guard on the 26th of July.
The coup led to the severing of ties (aid) to the Sahel nation by several Western countries.
The Economic Community of West African States (ECOWAS) who also imposed sanctions on Niger had last week said military intervention would be the last resort to restoring "order" after diplomatic avenues for negotiations have been exhausted.
The AU however, advised ECOWAS to be wary of any action that might legitimise Niger's military government.
"We are studying the ECOWAS decision to prepare forces for deployment in Niger, and the African Commission will evaluate its repercussions.
"We strongly reject any external interference by any party or country in the affairs of the continent, including private military companies," read an AU statement.