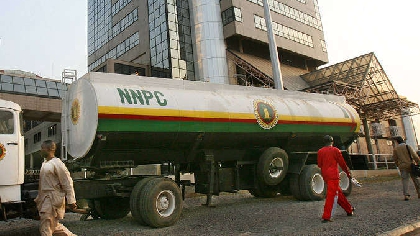 Nigerians appear to be in for a rough ride as the fuel price increase occasioned by subsidy removal appears unabating.
On Tuesday morning, Abuja residents woke up to a further price adjustment as the NNPC mega station adjusted the petrol pump price from N540 to N617 a liter.
After a private visit to the Vice President, Kashim Shettima at the State House, Abuja, the Chief Executive Officer of the Nigerian National Petroleum Company (NNPC) Limited, Mele Kyari said the prices of petroleum products in Nigeria are currently determined by market forces.
Kyari, who could not give concrete reasons for the recent increase, maintained that the NNPC has 32 days' worth of supplies and that the market is regulating itself.
"No. There is no supply issue completely," he told State House correspondents.
"When you go to the market, you buy the product; you come to the market you sell it at the prevailing market prices. Nothing to do with supply.
"We don't have supply issues. There is robust supply.
"We have over 32 days of supply in the country."
What assurances are you giving to Nigerians in addressing the situation?
Kyari added that the petrol pump price is expected to fluctuate in the coming days.
"Yes, what I know is that the market forces will regulate the market. Prices will go down sometimes; sometimes, it will go up," he said.
"But there will be stability of supply, and I'm also assuring Nigerians that this is the best way to go forward so that we can adjust prices when market forces come to play.
"I don't have the details at this moment, but I know that our marketing wing does, just like every other company in this business.
"I know that a number of companies have imported petroleum products today. So, many of them are online," he added.
The Chief Executive Officer of the Nigerian Midstream and Downstream Petroleum Regulatory Authority, Farouk Ahmed, concurred with the NNPC GMD that crude prices will determine local fuel prices.
"As a regulator, I told you back in May that we are not going to be setting the price," he said.
"The market will determine itself and as you saw back in early June when prices came out, it was based on the cost of importation plus other logistics of distribution and of course the profit margin by the importer.
"This market is deregulated; it is open to all participants. As I mentioned also yesterday when I was in Lagos, we have about 56 marketing companies that applied and obtained licenses to import. Out of those, 10 of them have indicated to supply within the third quarter, which is July, August, and September," he added.