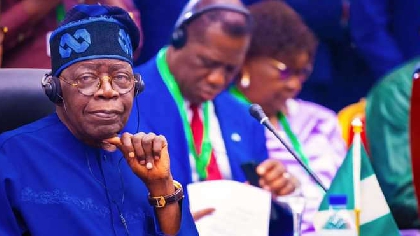 The Chairperson of the Economic Community of West African State (ECOWAS), President Bola Tinubu says diplomatic negotiations...
The Nigerian President made this remark in Abuja on Thursday during the second extraordinary session of ECOWAS on the situation in Niger Republic.
According to Tinubu, in order to reinstate President Mohamed Bazoum, coup leaders in the country must be engaged by the regional bloc.
"In reaffirming our relentless commitment to democracy, human rights, and the well-being of the people of Niger, it is crucial that we prioritize diplomatic negotiations and dialogue as the bedrock of our approach," noted Tinubu.
"We must engage all parties involved, including the coup leaders, in earnest discussions to convince them to relinquish power and reinstate President Bazoum", he added.
While noting that it is the duty of EECOWAS to "exhaust all avenues of engagement to ensure a swift return to constitutional governance in Niger", he also warned of the far-reaching effects the coup in Niger could have on other governments (democratically constituted) in the region.
"More specifically, as leaders of our respective nations, we must recognize that the political crisis in Niger not only poses a threat to the stability of the nation but also has far-reaching implications for the entire West African region.
"By remaining steadfast in our adherence to the principles of democracy, good governance, and the rule of law, we can restore peace, stability, and prosperity in the Republic of Niger, thereby fostering an environment conducive to growth and development for all," he said.
Recall that ECOWAS had given the military chiefs in the embattled country who took power from President Mohamed Bazoum on July 26 until last Sunday to reinstate the 63-year-old Bazoum or face the potential use of force. They however remained defiant.