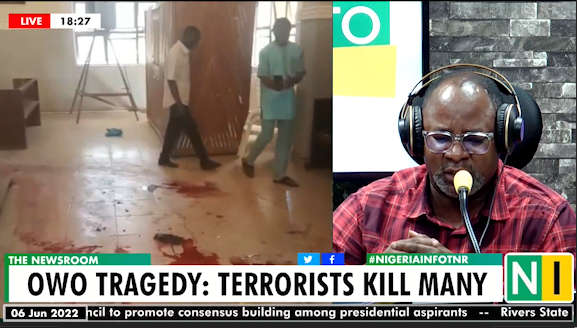 A survivor of Sunday's horrific incident at St. Patrick Catholic Church, Owo has recounted her story to Nigeria Info.
Miss Nnodim, while speaking on Nigeria Info's 'The Newsroom', revealed that the incident which happened at about 11 am had worshippers initially mistaking the gunshots for firecrackers.
According to her, "the churchwardens were trying to close the door when the shooters entered the church and started shooting sporadically."
In Nnodim's words, "four people fell on me and my whole body was underneath them. I couldn't see anything, I was just hearing gunshots."
"At a point, they left the people inside the church.
"There is a room for changing; choir changing, altar boys changing, and where the father changes his garment. They went there and shot people inside then they left," she said.
The incident has generated reactions from President Muhammadu Buhari; the Speaker of the House of Representatives, Femi Gbajabiamila; Governor Rotimi Akeredolu of Ondo State; the Aare Onakakanfo of Yorubaland, Iba Gani Adams; the pan-Yoruba socio-political organization, Afenifere and the leader of Ilana Omo Oodua, Professor Banji Akintoye; all condemning the dastardly act.
Earlier on Monday, a presidential aspirant of the All Progressives Congress (APC), Bola Tinubu, during a visit to the state, donated N75 million to the victims of the attack.
Watch Nnodim's detailed explanation in the video below.