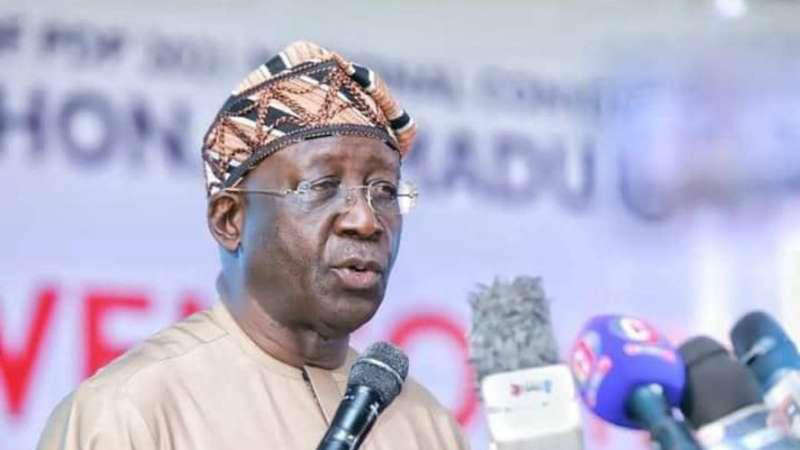 A chieftain of the People's Democratic Party (PDP), Fred Oghenesivbe, has urged members of the party to shelve their agitation for the resignation of the National Chairman, Sen. Iyorchia Ayu.
He told Nigeria Info that bringing up the issue at this time could affect the party's chances of winning the 2023 General Election.
Governor Nyesom Wike of Rivers State has been having a running battle with the leadership of the party since coming second at the PDP Presidential Primary in May.
He wants Sen. Ayu to resign or be removed.
Oghenesivbe, however, advised that the reshuffling of the party's leadership should be shelved until the 2023 election is over.
''Wike is a good party man, strong man, a good leader, we love him.
"Wike will not leave PDP, because in political permutation, how we are going to win is what matters," he said.
"The point Wike made is a genuine demand that power must balance, and get a better voice for National, it is a good demand."
He further said: "Let Ayu, who has started the process of packaging and rebranding our party, continue to pilot us into victory.
"As soon as we win the election, he steps down, we approach a southerner as the party's chairman.''
Oghenesivbe, who is the Executive Adviser to the Governor of Delta State on Communication, urged the PDP to focus on the various challenges facing Nigeria, and the solutions to them.
''We are very much interested in taking Nigeria back.
"Why Can't they solve the ASUU matters?" he queried.
"So, our plan is that Nigerians should join us and take back our country, A loaf of bread is now sold for N1,000.''
Oghenesivbe also talked to Nigeria Info about the governorship candidacy crisis in the Delta State chapter of the PDP.
At the centre of the crisis are David Edebvie and Sheriff Oborevwori. Hon. Edebvie who got 113 votes to Hon. Oborevwori's 590 during the governorship primary claims the winner is unfit to run for the office.
He is at the Supreme Court trying to convince justices that Hon. Oborevwori forged the academic certificates he presented.
In his reaction, Oghenesivbe is happy that the crisis has nothing to do with the authenticity of the primary.
"One good thing about Edevbie's case in court is that he's not challenging the sanctity of the primary election that produced Sheriff Oborevwori as governorship candidate, but the certificate issue."