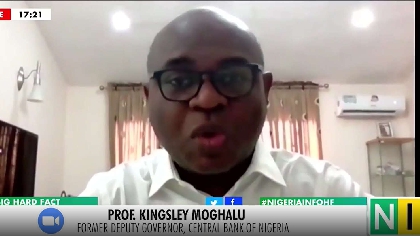 Former Deputy Governor of Central Bank of Nigeria (CBN) and Presidential candidate of the Young Progressive Party (YPP) in the 2019 elections, Professor Kingsley Moghalu, says it is ''unconstitutional" for Nigerians to be restricted from expressing themselves on Twitter.
Prof Moghalu made this known in an interview on Nigeria Info.
Nigeria banned the use of the micro-blogging app on the 5th of June, 2021 after the Minister of Information and Culture Lai Mohammed accused Twitter of supporting views of those who want Nigeria to be divided.
"I think it is unconstitutional that you could ask Nigerian citizens not to express themselves on Twitter," Moghalu said.
"If you look at section two of the constitution, there is a place that guarantees the rights of the mass media to circulate information and citizens to express their views.
"I know that the Nigerian Constitution definitely makes provisions that are against the Twitter ban," the former CBN boss added.
However, he is of the opinion that the federal government can establish some ground rules by which Twitter can operate.
''You can say to twitter that you are going to have to bring Twitter in the Nigerian space under some sort of supervision, that is your right as a government," Moghalu said.
The former Presidential candidate wants Nigerians to ignore "opposition politicians who obeyed the Twitter ban in 2023," because "it shows that they are opportunistic opposition."
Reacting to the spate of protest across the country in recent times and the call by some Nigerians for the President to resign, Professor Moghalu says Nigerian politicians do not have a resigning culture.
''Nigeria does not have a resigning culture unfortunately. There are not many Nigerian politicians who would resign because the people ask them to resign. They would just try to make their case and say that these are just aggrieved people''.