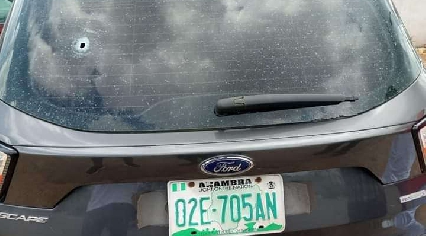 Anambra State Commissioner for Lands, Bonaventure Enemali on Sunday, narrowly escaped being killed.
This attempt was allegedly carried out by men of the Nigerian Navy, stationed at Awkuzu junction, along Onitsha-Awka expressway.
The commissioner's personal vehicle pierced with bullets was seen yesterday, as a close associate to him confirmed the commissioner was shot but escaped death by the whiskers.
In June, Nigeria Info had reported the alleged killing of a 25year-old photographer from Awkuzu, Chidiebele Anichebe, by a naval officer, at the same spot.

The late Anichebe was shot and the naval officer who shot was said to have held him down with his booths until he lost a lot of blood and eventually died.

Last week Monday, one Chukwuma Adazu was also allegedly killed and his cousins, fatally injured by the same Naval officers.
Both brothers are still at the hospital receiving treatment.

When Nigeria Info contacted Enemali yesterday, he confirmed the attack, saying that it was still like a dream to him. He also denied that the attack had nothing to do with him driving dangerously or refusing to stop when flagged down.

"As I speak, I'm still trying to piece together the details of what happened. It happened just this (Sunday) afternoon," he said.

The State Police Public Relations Officer, DSP Toochukwu Ikenga when contacted, said he was not aware of the attack while the Public Relations Officer of the Navy outstation in Anambra, Lt Ajikobi said he would get back with details.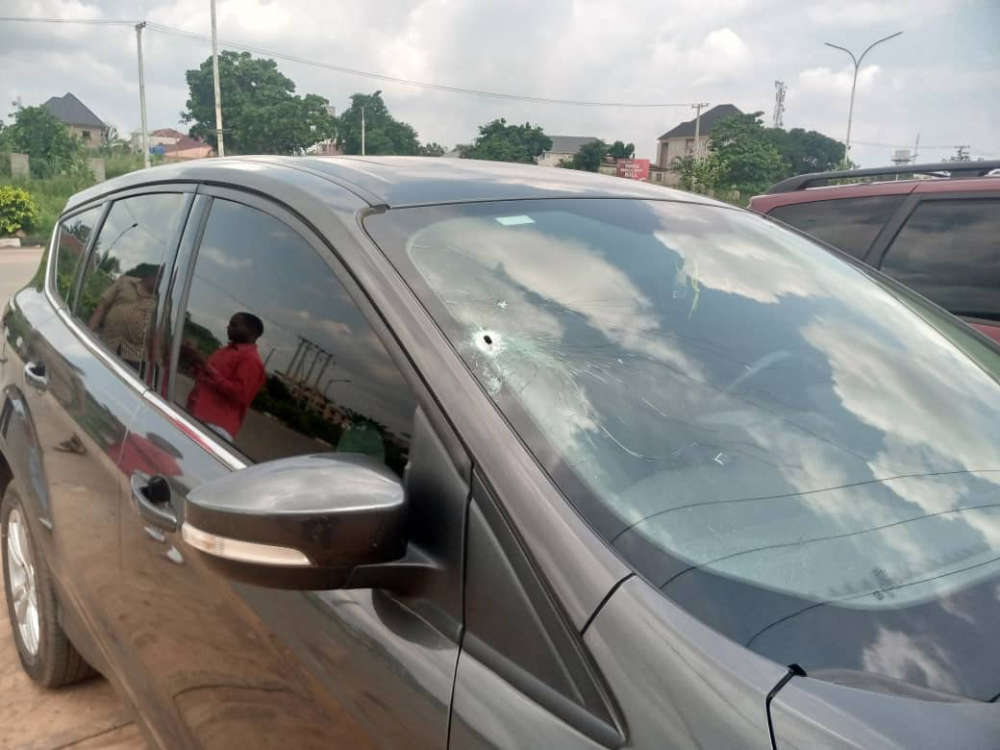 Meanwhile, speaking on the incident, a public affairs commentator, Ikechukwu Onyia decried the action of the security men, who he said ought to be protecting innocent citizens, but are now killing them.

"When some of us talk about the security situation and the conduct of our security personnel and even call for prosecution of Nigerian Navy officers that shot at Clement Nebolisa Amaku while he was driving through Awkuzu junction, some believe that after all, it does not concern them.

"They fired at Clement Nebolisa and killed his cousin Chukwuma Adazu on Monday evening at the spot while Clement and the elder brother are still at the hospital receiving treatment.

"Today, they fired at the Anambra State Commissioner for Land who was the former Commissioner for Youth in Anambra State. He escaped been killed by the same security people that should be protecting him. When will all these end?" he queried.

Onyia expressed worry that the state government has failed to act on the matter, despite the alleged persistent unprofessional conduct of the security men, especially at the spot.

"This is not the first time, not the second time.
"May be it will be when they fire shot at you or your relation or even our governor, Chief Willie Obiano for him to wake up and demand justice.

"A society that shy away from insisting that the right thing is done, no matter what their interests are, will wake up to be swallowed by the evil they allowed to thrive.

"Let the Governor of Anambra State remain silent because he is the governor until it moves from bad to worst.

"The Commissioner they shot at today and he narrowly escape receiving 'RIP' was silent when it was Clement Nebolisa. As you are silent today, you don't know if you are the next.

"There must be rules of engagement!
"They shot at the Nebolisas and the Government of Anambra State could not issue one single press statement on that.
"When they shoot at the governor, all of you will wake up and start talking.

"Those who believe that they are protected and as such, refuse to condemn evil when it happens, maybe eaten by the same evil they pampered over time," he warned.