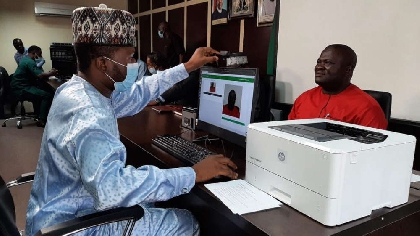 The Independent National Electoral Commission (INEC) has said it had received 542,576 online applications since the resumption of its Continuous Voter Registration (CVR), which started on June 28, 2020.
INEC Chairman, Prof. Mahmood Yakubu, announced this on Tuesday at a meeting with Resident Electoral Commissioners (RECs) in Abuja.
According to him, 456,909 were fresh registrants while 85,667 applied for voter transfer, replacement of Permanent Voter Cards (PVCs), update of voter information record, among others.
Yakubu said the commission had recorded 542,576 online registrants comprising 356,777 (or 66 percent) young people between the ages of 18 and 34 years and 134,719 middle-aged registrants between 35 and 49 years.
"The third category is elderly persons, aged between 50 and 69 years, of which 44,896 Nigerians have registered. Interestingly, some 6,184 senior citizens (aged 70 years and above) have taken advantage of the new online opportunity to register.
"On the occupational distribution of registrants, 156,446 are students; 38,217 artisans; 24,421 farmers and fishermen; 150,145 businessmen and traders; 35,831 employed as civil and public servants and 8,334 housewives.
"The remaining 129,182 registrants did not specify their occupations. On gender, 321,781 are male while 220,795 are female," he said.