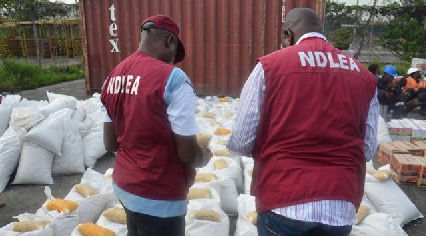 Justice Emeka Nwite of the Federal High Court, Abuja has sentenced two drug traffickers, Chibunna Patrick and Emeka Ezenwane to six years imprisonment.
The two convicted traffickers are linked to the suspended Deputy Commissioner of Police, Abba Kyari.
Justice Nwite convicted Umeibe and Ezenwanne on counts 5, 6, and 7 of the drug trafficking charge preferred against them by the National Drug Law Enforcement Agency (NDLEA).
Both Umeibe and Ezenwanne had upon their arraignment, pleaded guilty to the drug trafficking charges.
Justice Nwite had initially adjourned to review the facts of the case against them, but at the resumed hearing on Tuesday, the NDLEA, through the Director of its Legal Department, Sunday Joseph, informed the court that it had entered into a plea bargain agreement with the two defendants.
The prosecutor, therefore, prayed the court to adopt the terms of the plea deal as its judgment against the defendants.
Consequently, Justice Nwite, in his judgment, convicted and sentenced the defendants to two years jail term on each of the three-count charges.
The sentences will run concurrently, starting from the date of their arrest.