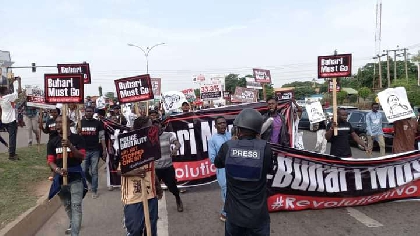 The Dunamis Church has said the church is not an activism ground "but a centre for the projection of truth against all forms of evil."
The Dunamis Church has said the church is not an activism ground "but a centre for the projection of truth against all forms of evil."
This statement comes after reports emanated that pro-government protesters were arrested in the church on Sunday.
In its response, the church said it had nothing to do with the purported arrest which according to them, didn't take place on their premises.
It also said it is committed in its advocacy for human rights, justice and freedom but "The church is non-political and non-partisan and thus not an appropriate ground for political protests as It is not the seat of government where those being protested against reside."
Its statement further reads: "Our attention has been drawn to a misleading caption in the media space about the arrest and detention of youths in our church on Sunday, July 4, 2022.
"The narrative being peddled is that some youth wearing T-shirt branded with #BuhariMustGo merely came to church and walked up to the altar as first-timers and were arrested by the church and handed over to DSS.
"Nothing can be further than the truth. The church holds three services every Sunday and the Senior Pastor, Dr Paul Enenche, preaches in all the services.
"After the sermon in the first service on that Sunday, an altar call was made to which many people came out, including the said youths, and nothing happened to them."