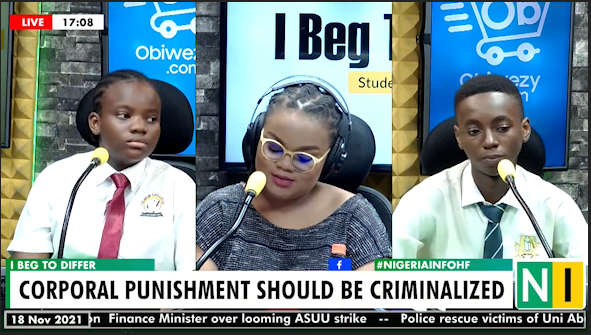 12-year-old Emmanuella Nnadi secures the last semifinal spot at the ongoing 'I Beg To Differ' student debate tournament on Nigeria Info.
Nnadi squared with 15-year-old Ogbonna-Ugwu Chiagozie for a chance at the semifinals.
Nnadi who supported the motion; 'corporal punishment should be criminalized', argued that corporal punishment has a psychological influence on a student's intelligence quotient (IQ).
She added that the effects of corporal punishment may impact negatively on the child's development.
Her opponent, 15-year-old Ogbonna-Ugwu Chiagozie insists however that corporal punishment is a form of reprimand to guide children.
Chiagozie in his argument made attempts at differentiating corporal punishment from physical abuse.
12-year-old Nnadi was subsequently considered the winner of the debate, hence joining Tanvita Koushik, Emmanuel Afolarin Busari and Uchechukwu Golden at the semifinals of the debate tournament which begins on Monday, 22nd November.