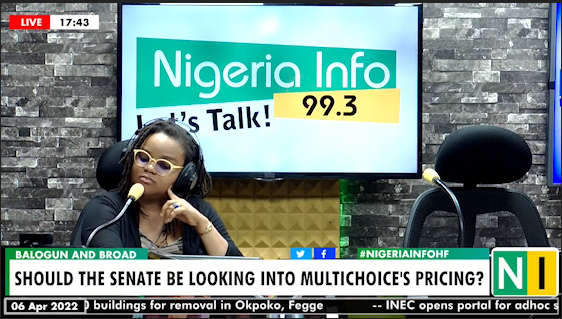 The head of intelligence at Stears Business, Michael Famoroti thinks the Nigerian Senate has no business regulating the subscription prices of Digital Satellite Television (DStv) and GOtv.
Last week, the Senate asked Multichoice, the operators of DStv and GOtv, to reduce its rates due to the economic challenges in Nigeria.
Famoroti who was speaking on Nigeria Info's Hard Facts called on members of the red chamber to focus on other issues affecting the country rather than on satellite television which is not an essential commodity.
He preferred the Senate deferring subscription rates to the Federal Competition and Consumer Protection Commission (FCCPC).
Michael Famoroti did, however, point out two instances when the federal government could step in to regulate prices.
One is when there is price gouging (a business raising rates as a result of spikes in demand for a commodity).
Another is the federal government intervening to regulate the prices of commodities in the interest of citizens. As an example, he cited the regulation of petrol prices by the federal government.
In the long run, Fomoroti noted that market prices, which may not always be correct, would balance out.