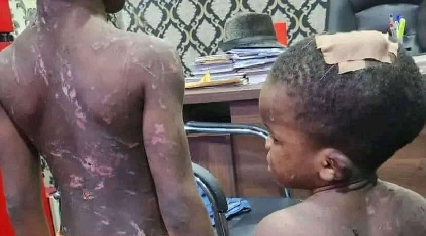 According to the World Health Organization, abuse or maltreatment of children can have severe short- and long-term effects on a child's physical, mental, and sexual well-being. 
These include injuries, such as head injuries and severe disabilities, especially in young children; post-traumatic stress, anxiety, depression, and sexually transmitted infections (STIs) such as HIV. Child maltreatment can also affect cognitive and academic performance.
In the wake of the arraignment of Busola Oyediran and her partner Akebiara Emmanuel before a judge on Tuesday for torturing their 5 and 2-year-old sons, questions have been asked as to where to draw the line between child discipline and child abuse.
Ozor, a caller relived his childhood experience on Hard Facts.
According to him, the sight of his mother who he described as "a terror" on days when she is randomly angry, led to fear and tension at home due to the beating they got from her whenever she is angry.
"I was tortured at school and also tortured at home. The torture I was getting in school, there was nobody to report to when I got home," he said.
He added that as kids, he and his siblings looked forward to their dad returning from work at 7pm, as a way to escape the terror and beating of their mother.