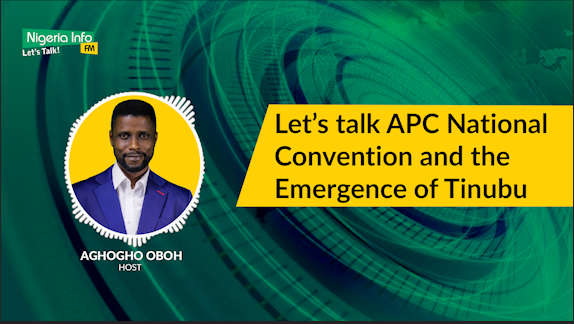 Reactions continue to trail the emergence of Bola Tinubu as the 2023 presidential candidate of the All Progressive Congress.
The recently concluded special convention of the APC saw Bola Tinubu securing 1271 votes to beat his closest rivals; former Minister of Transportation, Rotimi Amaechi and Vice President Yemi Osinbajo who secured 316 votes and 235 votes respectively.
A number of callers on Nigeria Info's Hard Facts were of the opinion that the clamour for a South Eastern presidency will only come to fruition if South Easterners rally around a particular candidate.
Others congratulated the former Lagos State governor for what they described as a "well deserved victory."
According to them, the APC candidate will most likely have a smooth ride in 2023.
In the aftermath of the June 9th deadline set by the Independent National Electoral Commission (INEC) for completing primaries and filing presidential candidates, the following presidential candidates have emerged so far:
Prince Ibrahim Addo-Malik Young Progressives Party (YPP)
Rabiu Musa Kwankwaso New Nigeria Peoples Party (NNPP)
Omoyele Sowore African Action Congress (AAC)
Peter Obi Labour Party (LP)
Prince Adewole Adebayo Social Democratic Party (SDP)
Kola Abiola Peoples Redemption Party (PRP)
Asiwaju Bola Tinubu All Progressive Congress (APC)
Atiku Abubakar Peoples Democratic Party (PDP)
Hamza Al-Mustapha Action Alliance (AA)