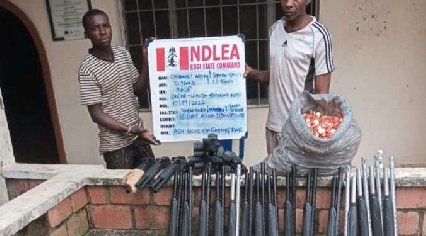 The National Drug Law Enforcement Agency (NDLEA) says it has intercepted 18 pump-action guns and 2,300 cartridges in Kogi.
Mr Abdulkadir Abdullahi-Fakai, Kogi NDLEA Commander, announced this in Lokoja on Monday while handing over the arms and ammunition to the Kogi Police Command under the agency's command.
Also handed over to the police were the four suspects, including a 65-year-old man, who was arrested in Abuja on Saturday, when he attempted to collect 1, 000 cartridges belonging to him from one of the suspects.
Abdullahi-Fakai said, "today, you are witnessing the handing over of four suspects, Chukwudi Adoni "M" 51-year-old (driver) and Shuaibu Gambo "M" 37-year-old (conductor) who were intercepted with 18 pump-action guns and 1,300 cartridges on the Okene-Lokoja-Abuja expressway on Sept. 17 in a bus.
"Also handed over is the 65-year-old suspect, John Ifechukwu and Anthony Agada "M" 37-year-old (conductor) who was also intercepted along the Okene-Lokoja-Abuja expressway the same day, Sept. 17 in a luxury bus conveying, 1,000 live cartridges belonging to Ifechukwu.
"You could recall that earlier in the month, One Sagir Ishaya "M" 40-year-old, a driver of a similar white bus was arrested with 12 pump-action guns and 374 cartridges, which we did hand over to the police without any delay," he said.
The NDLEA Commander said that between July and Sept 19, the agency made some giant strides as part of the command's determination and commitment to the War Against Drug Abuse (WADA) in Kogi.
He noted that during the period, the agency seized assorted drugs totalling 561,621.78 kg and arrested 56 suspects both males and females.
According to him, the command has successfully convicted seven suspects out of 11 cases filed along with other cases still pending at Federal High Court, Lokoja.
While stating that the drug war was a fight for everyone with no exception, the commander enjoined all stakeholders to continue to support the agency at all times.
"Our personnel are committed to ensuring a drastic reduction to the barest minimum, the prevalence of drug abuse and trafficking in our society, more so that a drug-free society can be achieved.
"Let me conclude by thanking the Governor of Kogi, Alhaji Yahaya Bello, for the continuous support of the state government to us in the fight against drug abuse in the state," he said.
Kogi Deputy Commissioner of Police Aniefiok Wilson commended the efforts of the NDLEA in intercepting such weapons and ammunition.
Wilson said that the handling was the height of the expected synergy among military and paramilitary organisations to fight and checkmate crimes and criminality within the country.
He assured the Commander of the readiness of the police command under the leadership of CP Edward Egbuka, to thoroughly investigate the matters for eventual prosecution to serve as a deterrent to other criminal elements.