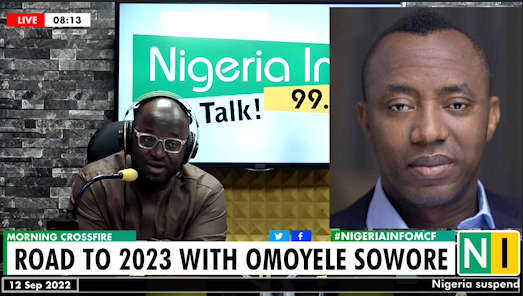 Omoyele Sowore, the presidential candidate of the African Action Congress (AAC), has explained how he plans to reduce corruption in Nigeria by 65 percent through technology.
In an interview with Sheriff Quadry, Sowore explained that it is hard to recover what is stolen by a corrupt official, hence, the need for technology.
"Technology can help reduce corruption from 90 percent to about 15 percent.
"Since most of the stealing is done directly from the system with no trace, I will create a system that allows us to find footprints in the system.
"If you tamper with the system, we will detect who did what and be able to hunt down such people before they do the real damage."
The AAC Presidential candidate lamented the lack of a system to check the looting of N109 billion by the former Accountant-General, Ahmed Idris.
"What if we had a system that prevented him from doing that? won't it be better?" he quizzed.
Sowore also said that digitalization will get rid of physical paper and paper money.
"We must deploy technology that ensures that payment, whether for contracting, procurement, for salaries, are only done through a digital process that can be tracked."
In the same vein, he noted that another important step in stopping corruption is replicating the 'Abacha treatment'.
The presidential candidate explained that this would involve making sure that "anybody found to have stolen billions of dollars be made to return them and face the consequences.
"Any kind of action that we take that will act as a deterrent must be done."