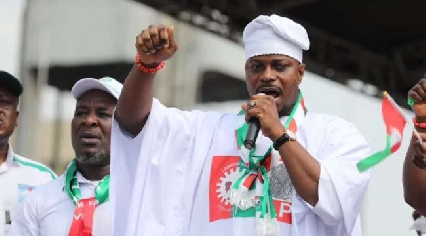 Afenifere, a pan-Yoruba socio-cultural organization in Lagos State, has endorsed the Labour Party's (LP) gubernatorial candidate, Gbadebo Rhodes-Vivour, for the forthcoming March 11 governorship election in the state.
The group also cautioned royal fathers against partisanship, stating that there would be consequences for those who choose to be partisan rather than fathers to all parties.
The Afenifere leader in the state, Supo Shonibare, speaking at a press conference on Wednesday, warned royal fathers to desist from engaging in partisan politics. He advised them that their role is to be fathers to both the government in power and the opposition, and not to be partisan.
Shonibare's statement was prompted by posts on social media, some of which suggest that some royal fathers are intimidating people who want to vote and compelling them not to vote for the Labour Party. He cautioned that such attitudes would not be tolerated and warned that there would be consequences for any royal father who shows partisanship in engaging the polity.
Furthermore, Shonibare urged Lagos residents to ignore provocative posts on social media aimed at fanning the embers of disunity between the Yorubas and Igbos. He emphasized that the election is not supposed to be a tribal war but about ideas, and implored Lagos residents to vote based on merit and not tribal affiliations.
Shonibare assured Lagosians that Rhodes-Vivour if elected as governor of Lagos, will form an all-inclusive government that will provide an enabling environment for all ethnic nationalities.