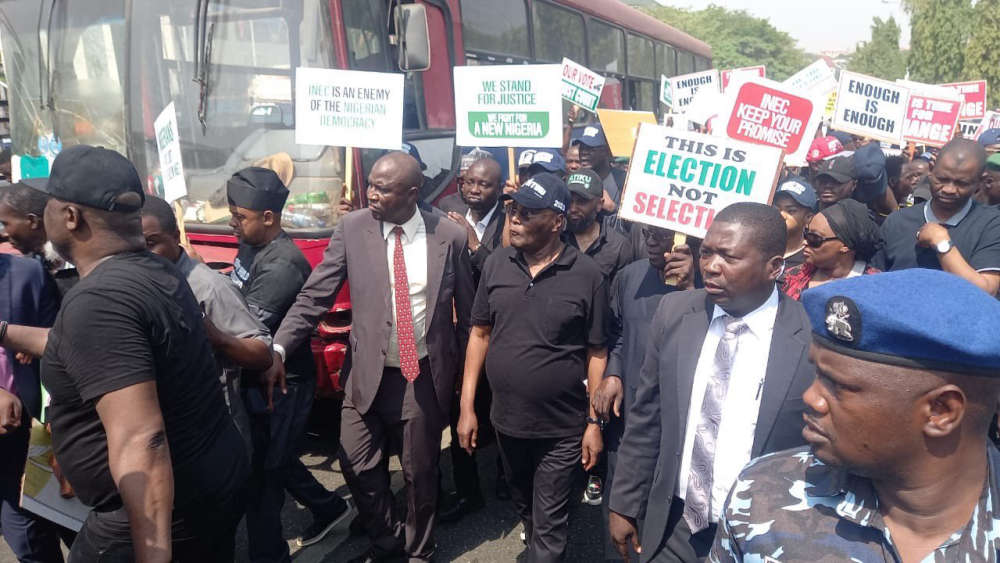 Former vice-president, Atiku Abubakar of the Peoples Democratic Party (PDP) on Monday led officials of the party on a protest to the Independent National Electoral Commission (INEC) in Abuja over the 25 February election.
Some of the officials included the PDP national chairman, Iyorchia Ayu, and National Working Committee members.
Ayu presented a party protest letter to INEC, calling for the cancellation of the election in which the candidate of the All Progressives Congress (APC), Bola Tinubu was declared the winner.
He urged INEC to conduct a credible election that would be acceptable to all.
"On behalf of the people of the Federal Republic of Nigeria, the teeming members of the PDP, we present this protest letter to INEC, addressed to the commission chairman, Prof. Mahmood Yakubu.
"We do not accept the charades of what has been presented to Nigeria people as election and what has been declared.
"We, there call on INEC not only to cancel the election but to re-conduct a very credible election, not only to Nigerians but also the international community," Ayu said.
Receiving the letter, the INEC National Commissioner and Chairman of the Information and Voter Education Committee, Festus Okoye, commended the party for a peaceful protest, promising to submit the letter to the appropriate authorities for necessary action.
"I have received this letter on behalf of the commission, if there are remedial issues to be dealt with, we are going to deal with those remedial issues.
This commission is for the Nigerian people. Our allegiance is to the Federal Republic of Nigeria.
"This commission does not have allegiance to any political party or candidate, our allegiance is to the Federal Republic of Nigeria," Okoye said.
The protesters were dressed in black and carried placards with different inscriptions such as "INEC is corrupt", "It is time for change", "INEC release the real results", "enough is enough", and "Mahmood Yakubu resign now."