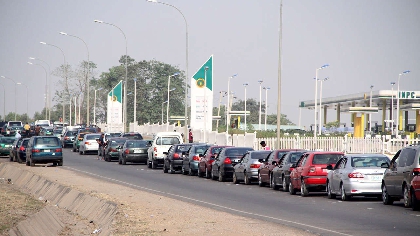 The National President of the Independent Petroleum Marketers Association of Nigeria (IPMAN), Debo Ahmed says the long queues at fuel stations in Lagos and Abuja are due to a shortage of supply from the Nigerian National Petroleum Company Limited. 
Mr. Ahmed said only a few of the private depots in the South West have petrol.
Petrol from these depots is also higher than the government-regulated price of N160 per litre.
"The issue of reoccurring queues is because of short supplies. Actually, we are buying from private depots, NNPC will sell to the private depots and the private depots will sell at a regulated price," he told Nigeria Info.
"But right now the private depots are not selling to us at the regulated price. We cannot buy at a higher price and sell at a lower price. We cannot run at a loss.
"We still need to add the cost of transportation, which is between N6 to N9 depending on the distance if you add the transportation cost to N160, it is already N169, and do not forget that this product is regulated by the Federal Government."
Mr. Ahmed said this was the reason IPMAN is pushing for the increase in the pump price of petrol to N180.
He, however, proffered a solution to the current fuel crisis.
"The Federal government is in charge of product importation so they should import products that will go round.
"We cannot continue to have this merry-go-round of a scarcity of product.
"We are not hoarding products. What is the need of tying down your money when there is a demand for it at the moment?" he queried.