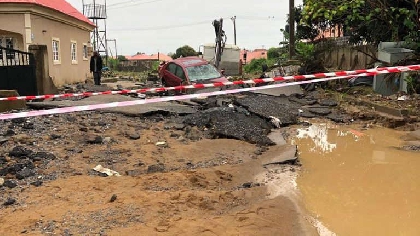 Residents of Trade More Estate, Lugbe, FCT, are still counting their losses following Sunday night's massive flood disaster.
Buildings were submerged, cars swept away and several fence and walls were pulled down by the floodwaters.
Speaking on the incident, the FCT Emergency Management Agency said three persons died as of Monday morning.
FEMA Director-General, Abbas Idris told our correspondent that the unfortunate incident occurred as a result of a heavy downpour, adding that the agency had deployed all available resources to the scene of the incident.
He said FEMA was working will relevant agencies in not only addressing the issue but forestalling future occurrences.
This is the second such flood incident in the area. Last year, a similar incident claimed one life.
The flooding is said to result from the indiscriminate erection of buildings, especially on flood plains, poor flood control systems and blocked drainages.