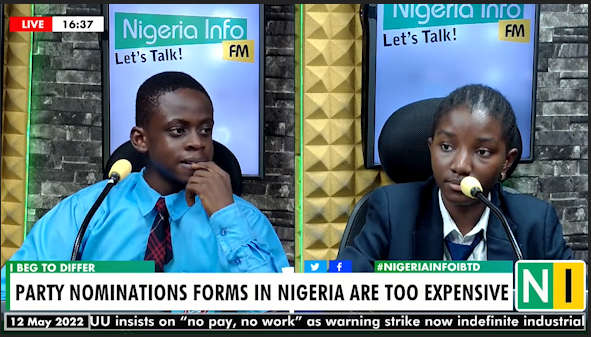 David Chukwuemeka Edwards of The African Church Model, Esther Bewaji of Silversands Hall School, and Hameed Olarenwaju of Rainbow College Day School have all qualified for the quarterfinals of the ongoing 'I Beg To Differ' debate tournament.
The day's session began with David Chukwuemeka going head-to-head with Promise Nmesoma Chukwuorji, of Ifako Comprehensive Senior High School.
Chukwuemeka, the session's winner, argued that the power of pardon acts as a safeguard against unjust convictions.
His opponent argued that giving pardoning power to the president or governor would lead to situations where anybody in the good books of the president or governor would be forgiven.
The second debate featured Esther Bewaji and Ayobami Efughi of Seaside Heights Secondary School debating: "Party Nomination Forms Are Too Expensive in Nigeria."
Following an intense round of debate, Esther Bewaji was declared the winner.
The last Round of 16 debate had Hameed Olarenwaju faceoff against Olaloye Toluwalase of Covet The Redeemer College.
They both debated the topic: The Lagos State Government Should Run Bus Parks.
After a heated debate, 14-year-old Hameed Olarenwaju won the final quarterfinal spot after consideration by the panel of judges.
They will join 12-year-old Ebule Timothy Chukwuebuka, 15-year-old Ekemini Awesome, 14-year-old Kolade Stephen, 14-year-old Qoowiyyah Wuraola and 15-year-old Artemus Pius-Omo in the quarterfinal round beginning next week Monday.