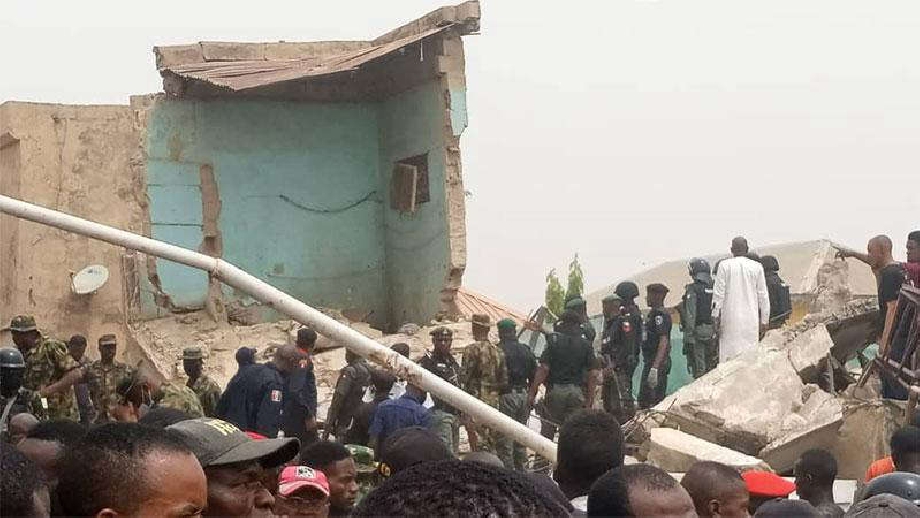 Kano Explosion/ⓒVanguard
Witnesses to the explosion which rocked the Sabon Gari area of Kano State Tuesday, are telling a different story from that of the government.
The National Emergency Management Agency said the blast killed nine persons and the police said it was caused by an explosion from a gas cylinder.
"We had to rush down with our experts, that is, the EOD personnel. They said it was an explosion, a bomb explosion, but, sincerely it was not a bomb explosion. It's a gas cylinder explosion," the Kano State Police Commissioner, Sama'ila Dikko said at the scene of the blast.
But people around the area have been telling a different story.
Not a few of them say the incident was the work of a suicide bomber.
Nigeria Info monitored a video clip where the director of Winners Triumph Excel Academy, a school whose building was affected by the blast said he saw the bomber.
"It was a suicide bomber that came. It was not gas explosion. It was a suicide bomber. We saw it," Lennie Ujaja Director told Arise News.
A teacher identified as Godspride Timothy corroborated Mr. Ujaja's claim.
"After our assembly in the morning, I was in the class teaching the students, and all of a sudden, we heard a sound and on reaching here we saw the explosion and some dead bodies around.
"What we're hearing on the news now, that the government is saying, is that it's a gas explosion, while what we saw and the sound we heard is a bomb blast sound.
"As an engineering student, I know what is gas and I know what is bomb explosion, so I don't see the reason why the government is telling us that this is a gas explosion, while we know the truth. So, I don't know if they are trying to cover their shame," he said.
The blast brought down a building and blew the roof of Winners Academy, causing panic in the area.