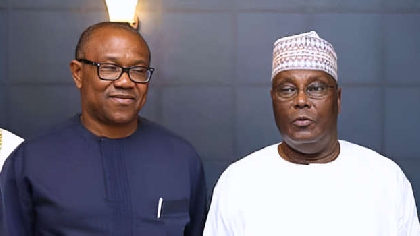 The Labour Party (LP) has poured cold water on the possibility of a merger with the Peoples Democratic Party (PDP).
This is in reaction to a call from former vice-president and flag bearer of the Peoples Democratic Party (PDP) in the 2023 presidential election, Atiku Abubakar who suggested opposition parties in the country come together in a bid to defeat the All Progressives Congress (APC) in the next presidential election.
Spokesman for LP, Obiora Ifoh, revealed the stand of the party in a statement on Thursday, further adding that a post-mortem of the last presidential election is yet to be conducted by the party.
He said: "In my reaction, I said that it was only a proposal that every Nigerian should be interested in making democracy work and that what we have presently is an autocracy.
"There was nowhere in the response that the purported merger between LP and PDP was mentioned.
"When we do, Nigerians will be properly informed," added Obiora.