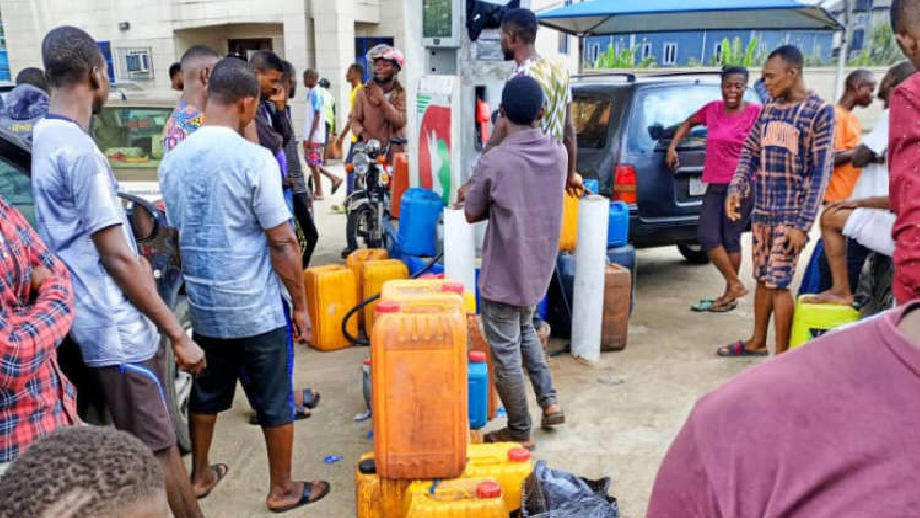 Fuel scarcity in Rivers State capital, Port Harcourt has entered its fourth day, with queues getting longer at filling stations on Thursday morning.
People have been unable to get petrol since Monday, and some stations were closed on Wednesday.
Many marketers are taking advantage of the situation to increase the price of the product which they sell for between N200 and N250 a litre.
This is happening about five months after a nationwide scarcity caused by the federal government's importation of adulterated petrol.
As a result, transport fares have increased in the city as the distance previously charged N100 by commercial drivers is now N150.
People are spending longer than usual at fuel stations.
"We Nigerians, we are suffering. The transport fare has been increased.
"I bought N250, they sold for about two hours, they now stopped.
"As you are looking at me now, I cannot go and carry my children because there is no fuel in the car, I cannot work in the office because there is no fuel in the generator," a Port Harcourt resident told Nigeria Info.
"Since 5 am, we have been moving around to see where we can get fuel but unfortunately, we found out that it is only this place that is selling fuel.
"You can see the crowd; we have been suffering. I have been trying to see how I would fuel my car to go for my own business but up till now, no avail," she continued.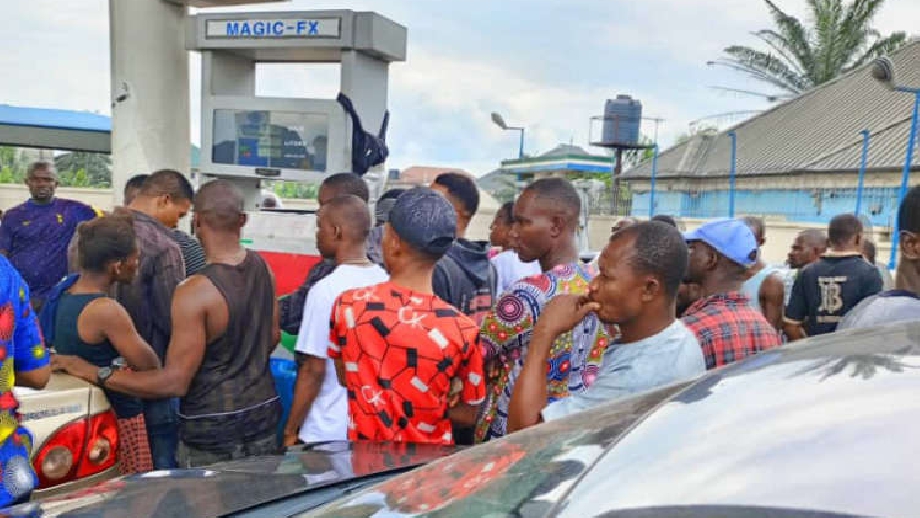 Another motorist alleged that the fuel station managers are giving some buyers preferential treatment.
"Since morning we are here, people that just come when they give them call, they will open the gate and sell for them.
"Those that don't know anybody are suffering. We are begging them, 'let's give N500 so that we can buy,' they refused.
"I don't know the way our country is going on," he lamented.
A hotelier said the scarcity and the attendant increase in fuel price are eating into his profit.
"The increment of the fuel has really affected us compared to what we buy fuel before.
"Previously we can buy for N3,000 which will take us some hours, but for now, we are buying up to N4,000, N5,000, and N6,000, which apparently cannot take us far from the previous usage.
"If we continue like this, it will affect us in patronage. The Patronage is slow."
The scarcity is caused by the shutting of fuel distribution in Rivers State by marketers and the Nigeria Union of Petroleum and Natural Gas Workers (NUPENG).
They accuse the state government of failing to respond to the union's petition to intervene over complaints of extortion and impounding of fuel trucks by security operatives.