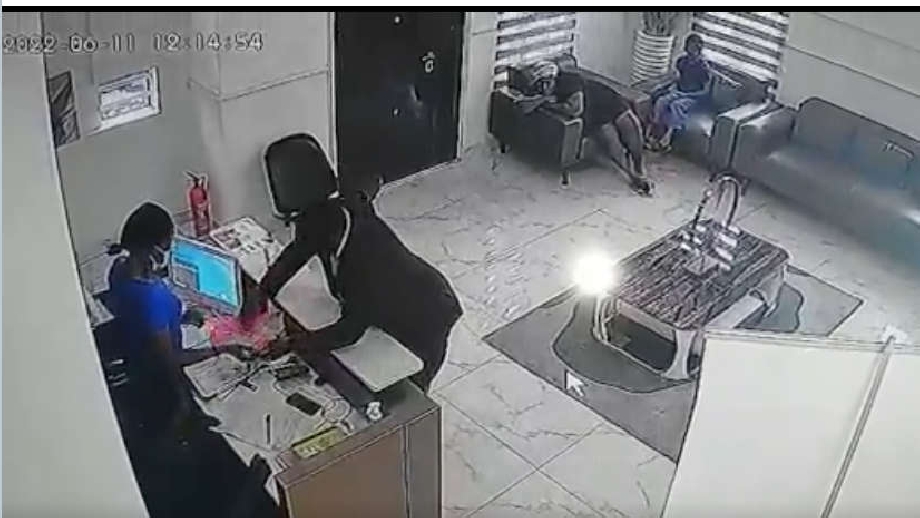 A 'corporate thief' has been stealing from small businesses in the affluent Ikoyi/Victoria Island/ Lekki axis of Lagos State.
He dresses in a suit and wears a mask – apparently to make it difficult to identify him – before going into stores in the area, pretending to be a customer, distracting front desk officers, and picking up their phones.
That was exactly what the Twitter handle @ItunuoluwaUL accused the unidentified petty thief of doing at the Victoria Island branch of her small business.
Her tweet contained the CCTV footage of the moment the man came into the store and left with a phone.
the V.I branch's phone while distracting our front desk personnel.

Apparently, this isn't his first time as other similar small businesses have shared footage showing him in the act, this seems to be his MO and he targets small businesses in the Ikoyi/VI/LEKKI area.

— Itunuoluwa Umar-Lawal (@ItunuoluwaUL) September 18, 2022
Itunuoluwa Umar-Lawal tweeted that the case has been reported to authorities and warned other business owners to be on the lookout for the suspect.
We'd like to implore all other small businesses to be extra vigilant & watch out for this criminal, we have shared the cctv footage from three of his recent heists so everyone can be on the look out for this thief and alert the law enforcement authorities whom we have also filed

— Itunuoluwa Umar-Lawal (@ItunuoluwaUL) September 18, 2022
Several business owners have also shared CCTV footage of the man stealing from them.
This same guy pic.twitter.com/he2MYyOZ9b

— TTobi (@tobiologun) September 18, 2022
The same energy here. pic.twitter.com/CX7vYsVaCb

— MA degree holder's club💉💊🛡️🐺🐺 (@nurse_temmy) September 18, 2022
This same guy!! He stole from us few months ago! Same strategy! Same dressing! Petty thief!!! https://t.co/uhONtYmbOY pic.twitter.com/JvTpy9iFlK

— SANNIKAYZ KITCHEN (@sannikayz) September 18, 2022
This man came to our office sometime in July dressed the same way and stole my colleague's IPhone 12, the face mask, the way he walks and the car all checks. https://t.co/JAP8oIbyTD

— one thing about me? (@thatigbochiq) September 18, 2022
Another business owner @someoneisgoing says he was at her fabric store disguising as a customer who had come to buy something for his wife. @hamiltonawah claims he walked into his store in disguise of buying cufflinks but left with phones.
I know this man, sometime early this year this man walked into my office at Maruwa in the guise of buying cufflinks, I gave him price and he said it was too high, when he left he stole 2 phones charging in a small kiosk just at the gate. https://t.co/Q95dx5ZuiP

— Hamilton (@hamiltonawah) September 19, 2022
@iamEzeAku has accused the same man of making fake transfers.
This is the same BASTARD that robbed my office also in VI. He stole my colleague's phone too https://t.co/ksnJNq03ih

— Ego Billions 💷💷 💵💵 (@So_phynee) September 18, 2022