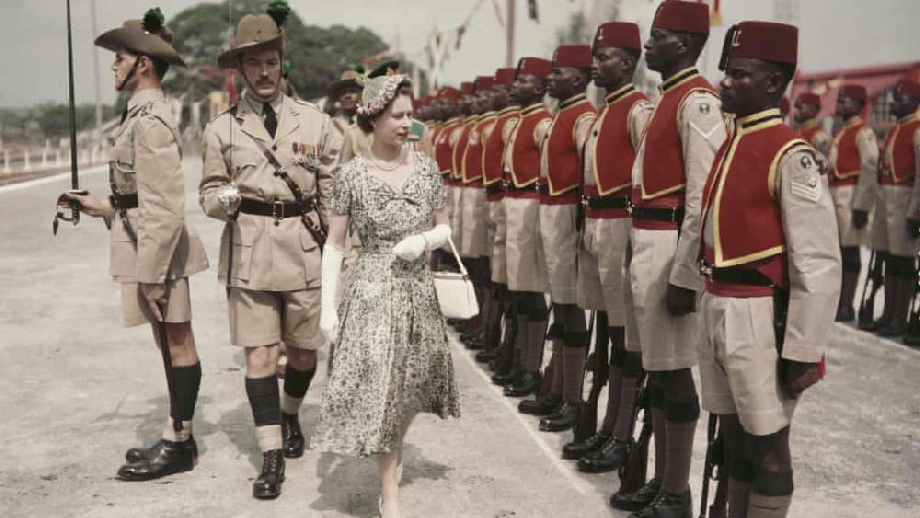 ⓒ Fox Photos/Getty Images
In 1956, Queen Elizabeth II was welcomed to Lagos, Nigeria by a large crowd.
That was four years before Nigeria's independence.
The queen's visit was received with lots of fanfare.
Among those who came to receive her was the influential Federal Minister of Labour and Welfare, Chief Festus Okotie Eboh.
She was also received by Lagos traditional leaders like Chief Adeniji Adele II.
She met also met with many chiefs during her 20-day visit that started on 28 January and ended on 16 February.
The queen was hosted to a garden party in Lagos.
At the Federal House of Representatives, the queen, accompanied by her husband the Duke of Edinburgh, received a pledge of loyalty on behalf of her then Nigerian subjects.
Speaking at the House the queen said, "My husband and I have been deeply touched by the welcome that you have given us. May the Lord bless you all."
Lawyers also shared an occasion with the queen. This was at a formal ceremony held to inaugurate the new federal court in Lagos.
Queen Elizabeth did not limit her trip to Lagos State.
She was in Kaduna State where she was received by a large crowd of horsemen and leaders of various tribes and different provinces of Northern Nigeria.
The provincial leaders came from Ilorin, Kabba, Benue, Niger, Zaria, Katsina, Adamawa, Bauchi, Kano, Borno, Sokoto, and Plateau.
She was entertained with dances by different tribes dressed in their traditional costumes and attires.
She was also in Port Harcourt but her final destination in Nigeria was the ancient city of Kano where many travelled miles to see her.
In the end, it was indeed a remarkable visit for the queen and the people of Nigeria.