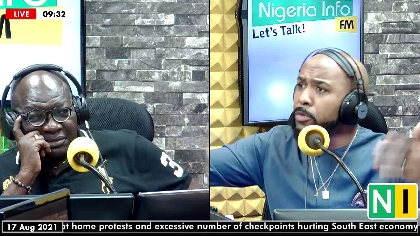 As the election cycle starts in Nigeria, Nigerian singer and politician Olubankole Wellington is warning against the danger of voter apathy. Banky W, as he is popularly known, says politics will always be bad if everyone continues to engage in apathy. 
Speaking on 99.3 Nigeria Info Daily Digest with Jimi Disu, the artiste insisted that politics will always be dirty and dangerous if everybody who is good and credible sits out of the process and complains.
"We can't sit around and during the election season, people who should be in jail or exile are the ones on the campaign posters around and are the ones who keep getting into these powerful offices in the country.
"The truth is, it will always be dirty and dangerous if everybody who is good and everybody who is credible and everybody who has good interest at heart forever sits out of the process. Because then we will leave the scum of the earth that we have here to occupy these seats and then we will turn around and complain that Nigeria is bad. But it will always be bad if we continue to indulge in apathy. And I really think that apathy is one of our biggest problems."
The actor also opined that the People's Democratic Party (PDP) and All Progressives Party (APC) are the same. He believes that they are just platforms without ideologies that people use to leap into power.
"APC and PDP by and large tend to be the same. They just kind of play musical chairs. You know somebody is here today, there tomorrow and they are just kind of jumping back and forth. And the parties don't really have ideologies per say. They are just platforms that people use to leap frog into power."
Speaking further he disclosed that frustration with the status quo and plight of young Nigerians engendered him into politics. In his quest to stand up for change, he revealed, that "wanting to stand up for something to represent a different set of ideals, to reach out to a younger generation that really does not believe in either of those two platforms," is part of his motive.
"Maybe we can put ourselves together and push back against this thing and bang against it, and show what is possible and what can be done," Banky added.
In February 2019, Banky W contested in the general election for the Lagos Eti Osa Federal Constituency seat in the House of Representatives under the platform of the Modern Democratic Party. He lost to the incumbent, Babajide Obanikoro – son of former Minister of State for Defence, Musuliu Obanikoro - of the APC.

Watch other highlights from the interview here>>>