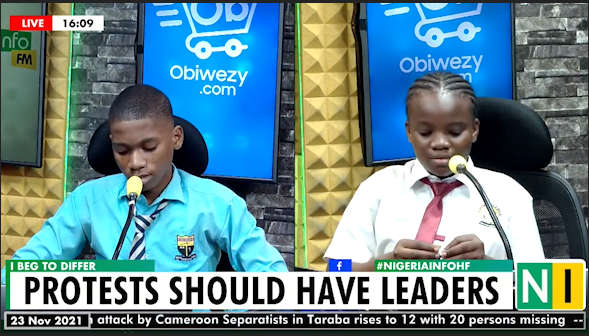 12-year-old Emmanuella Nnadi is through to the finals of the 'I Beg To Differ' debate tournament after an intense debate with 15-year-old Uchechukwu Golden.
Both participants debated the question "Should protests have leaders?"
Nnadi spoke against protests having leaders by arguing that it would be easy for the government to infiltrate and disrupts a protest if such protest has a leader.
In his argument, Golden argued that protest leaders help in mobilising protesters to a particular course.
He added that the protest leaders are links through which the government can respond to the demands of protesters.
After lengthy deliberations by the panel, both contenders were tied with 24 points each.
This led to a tie-breaker round during which both candidates switched sides of the argument for a final round of arguments.
12-year-old Emmanuella Nnadi won the tie-breaker round and advanced to the final which comes up on 23rd November at 5PM.