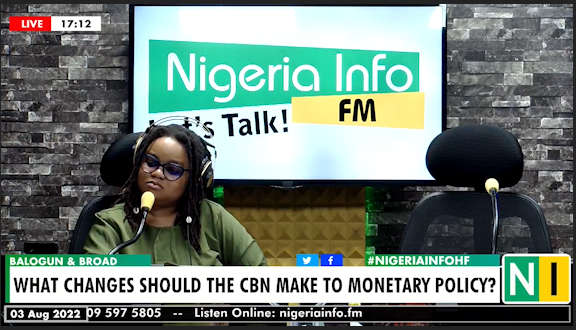 A report by the credit rating agency Agusto & Co. notes that the federal government's borrowing from the Central Bank of Nigeria (CBN) will increase to N23.2 trillion by the end of 2022.
This will increase the government's local currency debt to approximately N46 trillion, and the CBN appears to not be ending its funding anytime soon.
This has raised concerns about the country's credit rating.
A Senior Development Analyst at Stears Business, Gbemisola Alonge, wants the Central Bank to "stop funding the federal government."
Alonge was speaking on Nigeria Info's Hard Facts and noted that "Nigeria's ballooning debt profile reduces the country's credit rating."
According to her, investors will not invest in the country if they sense a "shaky credit rating."
"No investor wants to put their money in places where the economy is going down," she said.
Alonge also weighed on Nigeria's foreign exchange, stating that the CBN needs to manage liquidity by "slowly removing the peg on the exchange rate."
In her view, "Nigeria can no longer maintain a fixed exchange rate system. It is not sustainable."
She noted that countries running fixed exchange rate systems have huge foreign exchange reserves to back up the rates and "we don't have that."
On her part, an Analyst at SBM Intelligence, Ese Oikhala, revealed that some directives by the CBN have led to speculation in the money market. This has led to a free fall of the naira.
Oikhala pointed out that speculations give power to black market operators and illegal Bureau De Changes (BDCs).