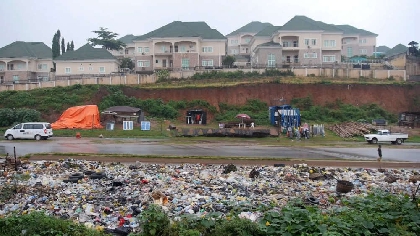 Welcome to Abuja, a huge dumpsite where seven billion naira is spent annually on waste management, but our correspondents see something different.
Some parts of Nigeria's Federal Capital Territory (FCT), Abuja have been taken over by huge refuse dump constituting a major health risk to residents of the city.
Nigeria Info visited at least two major areas of the city and the story of poor waste disposal, roads blocked by refuse dumps seems to be the order of the day.
In some parts of the city, refuse has taken a large portion of the road, forcing motorists to meander through. At the Third Avenue area of Gwarimpa, the story huge refuse dump piling up within the area is the same as Guzape District.
In other major spots of the city, huge dups of refuse, constitute an eyesore and major health risk.
Worried by the heaps of garbage in parts of Abuja, some residents have appealed to the FCT Administration to immediately address the issue of waste disposal to forestall an outbreak of epidemic.
Some residents of Guzape District, close to INEC Residential Quarters, decried what they termed as the negligence of the Abuja Environmental Protection Board (AEPB) in disposing of their waste.
They said sometimes it takes three months for AEPB officials to evacuate the waste, a development they said was causing accidents on the road and environmental pollution.
"Before they were coming to pack regularly almost every day but for some time, they have not been coming. That's why you see the road almost blocked," a resident noted.
Another added: "it's been there for like 3 months. In short, if you look at it now, you will find out that they are almost covering the road. As of this morning, a guy had an accident, a taxi driver. He drove and then I didn't know what happened, he just entered the dustbin and that was where he got stuck."
In Gwarimpa Estate, a resident simply identified as Igwe said sometimes, dead animals and human beings were being deposited at the waste site which was in the middle of the road. He appealed to the FCTA to urgently evacuate the waste from the site as it was having an adverse effect on the area's dense population.
"This dustbin, the effect and trouble it has given us here, I don't know the word I will use to express it," Igwe explained.
"Sometimes people bring something like dead human beings and dead animals. They will dump it here and these waste management contractors, sometimes they leave this thing for up to four days," Igwe alleged.
Nigeria Info did try to reach officials of the AEPB to know the agency's plans to remedy the situation. The Public Relations Officer of the agency told our correspondent that the Director in charge was out of office and promised to get back to us with details.
Meanwhile, the FCT Administration says it is exploring innovative ways to generate revenue from waste products. At a media chat in Abuja, Director, FCTA Reform Coordination and Service Improvement, Dr. Jummai Ahmadu also blamed Abuja residents for the situation. She frowned at the attitude of some FCT residents who ignore waste bins but prefer to litter the environment with their domestic and commercial wastes.
"The Administration provided refuse bins in collection points, people have to manage their wastes from their homes to the collection point.
"In spite of huge money spent on wastes, the result is not showing; the Administration is looking for innovative ways to manage wastes and even make money from it," she noted.
Dr Ahmadu insisted that over seven billion naira was expended annually to manage waste in the FCT. She also said generating money from wastes would help keep Abuja clean as well as help offset some logistics costs. She called for partnership from both private individuals and corporate organizations in ensuring the city is clean.
"These wastes can become a source of wealth, create employment and other opportunities if properly processed and handled," she emphasized.
The FCTA Reform Coordination and Service Improvement Director added that the AEPB was vested with the task of managing waste in the territory and had been wooing contractors and investors, who are well experienced to manage and recycle wastes.
It remains to be seen how effective these measures will change the already deteriorating situation of Nigeria's seat of power.