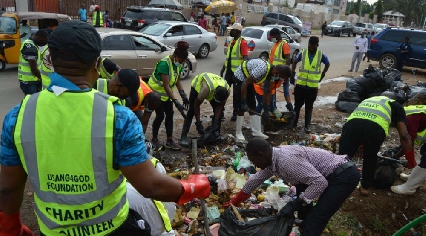 The voice of Fortune Musa resounds clearly on the Airwaves of Nigeria Info 95.1fm Abuja, on a late Friday morning.  He reminds his listeners of the call to action, for residents to join a growing number of volunteers to help clean Area 10, UTC drainages of refuse.
This is the fifth volunteer clean-up exercise since he began the initiative in April 2021.
It is Musa's response to the growing number of complaints of un-cleared heaps of refuse dotting Nigeria's capital city
Fortune Musa, whose stage name is 'The Mayor', explains how it all started.
"I kept getting situation reports on my show 'What's Happening Abuja' of un-cleared refuse in Kubwa, Nyanyan, Idu, (and), different parts of town.
"I decided to drive around myself and discovered there is a waste problem.

"Was it a disconnect with the people or the government? Who is supposed to drive it? I wasn't sure," Musa asks.
But then, he decides to take the proverbial bull by its horns.
"I decided that instead of creating another show where we over-flog the issue and complain, I opted to do a citizen's call to action.
"I asked innocently if I called you to join me to clean, would you do so? I took responses to see if there was a part of society who was willing to get their hands dirty to solve a problem.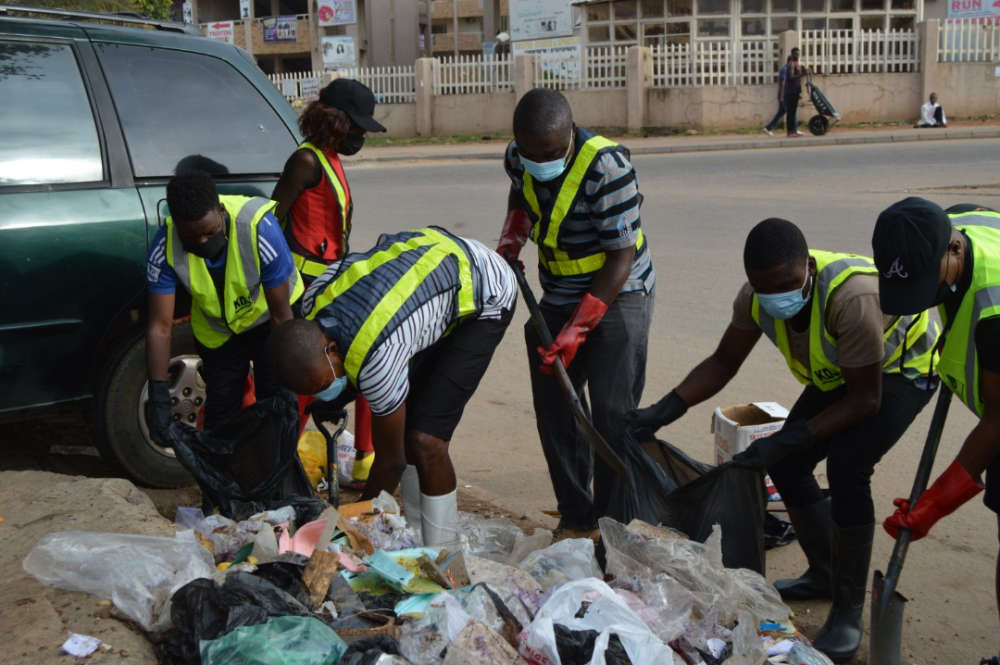 "At the first call in Jabi, four people showed up. Two were environmentalists who worked with the government, trained abroad and were frustrated with a system that wasn't working. They agreed on Garki Modern Market for the first official cleanup.
Armed with shovels, refuse bags and other necessary tools, thirty persons showed up. They formed the 'CLEAN UP ABUJA VOLUNTEER INITIATIVE', and agreed to meet every two weeks to clear refuse off popular areas.
Volume of the Problem
The FCT Administration revealed in early August 2021 that it pays 64 cleaning contractors about N8 billion annually to manage waste in the FCT and satellite towns across the territory.
FCT Minister of state Dr Aliyu Ramatatu stated this at the maiden edition of the Annual General Meeting and Induction of Waste Management Association of Nigeria (WAMASON), FCT Council, in Abuja.
Despite this huge investment, the problem persists.
The areas most affected are Guzape, Karu Site, Kubwa, Nyanyan. These areas are famed for mounting heaps of waste, worsened by the rains.
The result: flash floods as the drainages are blocked.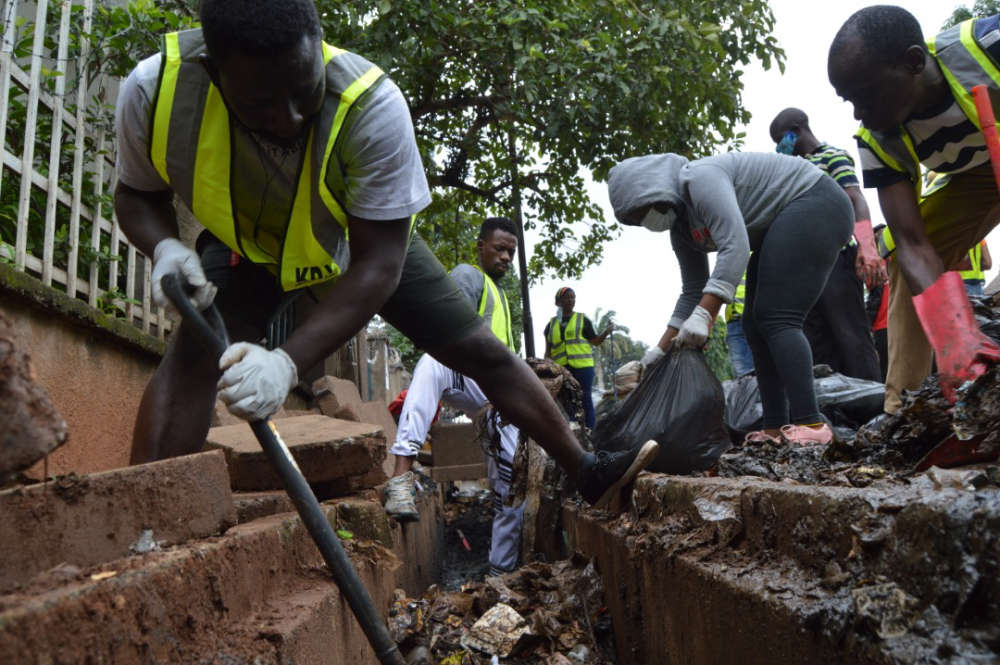 With a surge in the number of cholera cases in the territory, the Nigeria Centre for Disease Control in a recent advisory has called for greater access to clean water supply, sanitation and hygiene.
This is as open defecation, poor sanitation and hygiene have exacerbated the problem.

Deeper Problem?
But 'The Mayor' believes the waste problem is a lot deeper
"The bulk of the waste is underground. You usually don't see a lot of litter when you drive around.
"The street cleaners sweep the litter thrown from cars into the underground chambers. When it's full, they simply open another manhole and fill that up. In cleaning, we are bringing out years and years of packed dirt.'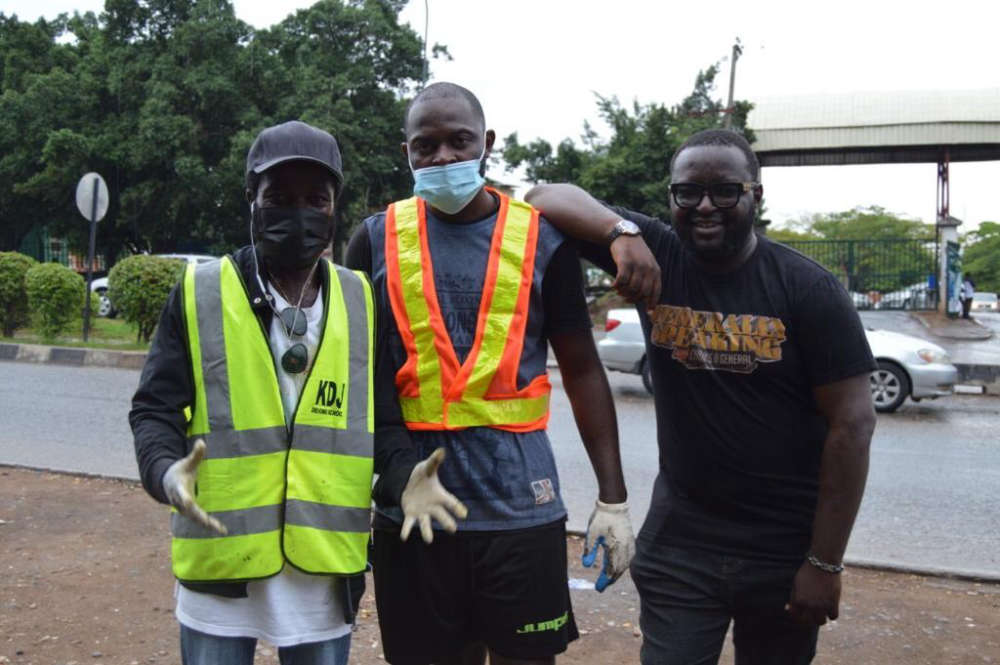 "So, for a while, we halted our cleanup after the first Wuse Market clean up due to the magnitude of waste. It was overwhelming.
"There were a lot of manholes and we didn't have the numbers nor the equipment to tackle them.
"We stopped to seek support from AEPB, Corporate Organisations, and NGOs. AEPB responded positively but are yet to show up at any of the cleanup."
The biggest support has been from individuals. Reflective vests, refuse bags, payment to evacuate wastes, amongst other support.
Impact of Clean-Up
The number of advocates in the form of volunteers are rising. Men, Women and children are joining the call for sustainable waste management to rid the streets and gutters of waste and curb disease.
Victoria Omonokhua comes from Kubwa satellite town to join the cleanup in the municipality and has been so from the very beginning.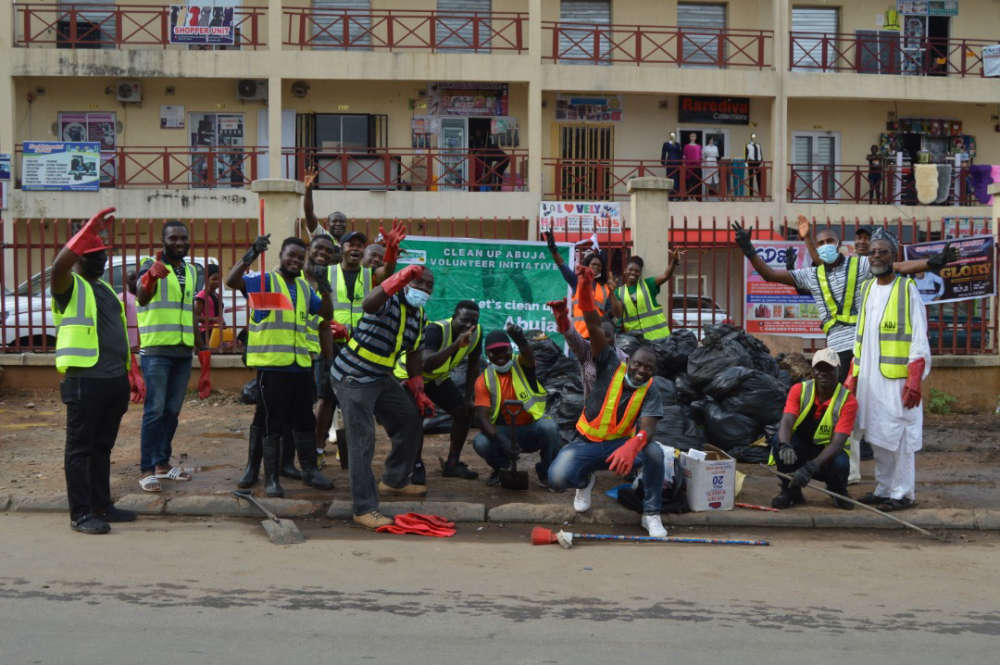 The Town planner and Real Estate Developer is pleading for an attitude change from fellow Abuja residents.
"I wanted to be part of the move to rid Abuja streets of dirt," Omonokhua says.
"If you can't come out to join us, at least stop the indiscriminate litter of waste and open defecation," she pleads.
Bashir Alilu is a father of four. He joins the volunteers with his third child, an 11-year-old son, Ashim Bashiru.
The former banker, who now is an enthusiastic farmer says his son "is very keen on it and reminds me of the cleanup, whenever it is time."
He adds: "I need my son to learn that we can't always wait for the government. But we can put in our little to create the change we desire."
11-year-old Bashiru loves skateboarding and technology. He is fond of playing with a 3D app called 3D Viewer and also loves to play scratch (a programming app for children between 8 & 16).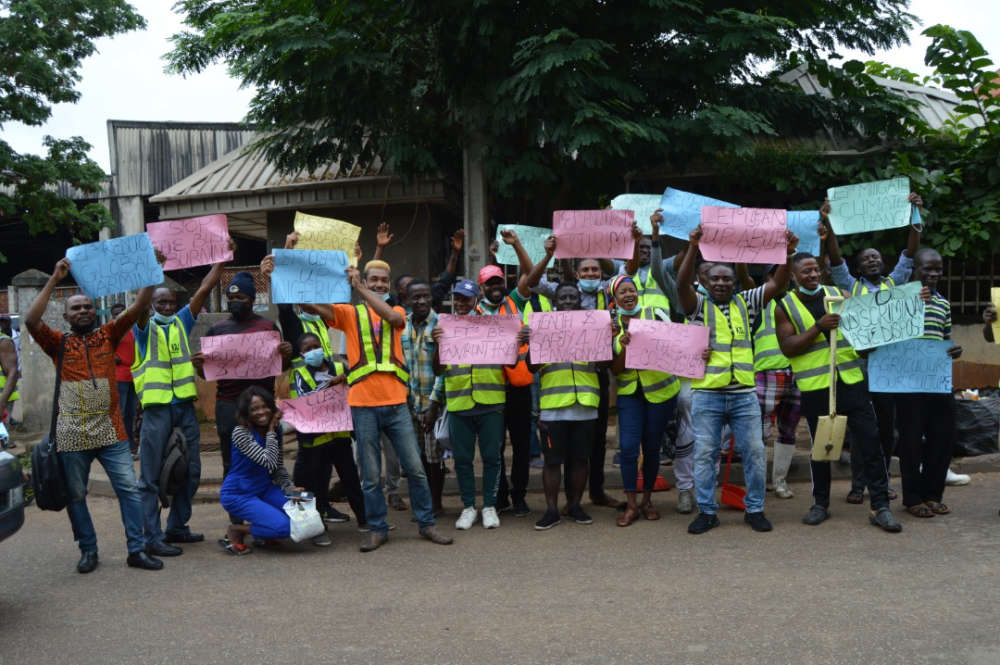 Buthe is also enthusiastic about the need for people to "Learn to keep Abuja clean."
He finds it sad that "Instead of water running in the gutters, its dirt clogging the gutters."

Fortune says that they get commendation from the management of the markets they clean - Wuse, Garki and UTC shopping centres.
They are close to getting a commitment from the UTC management to create sanitation days in a month, where all commercial activities are halted until their gutters and streets are clean.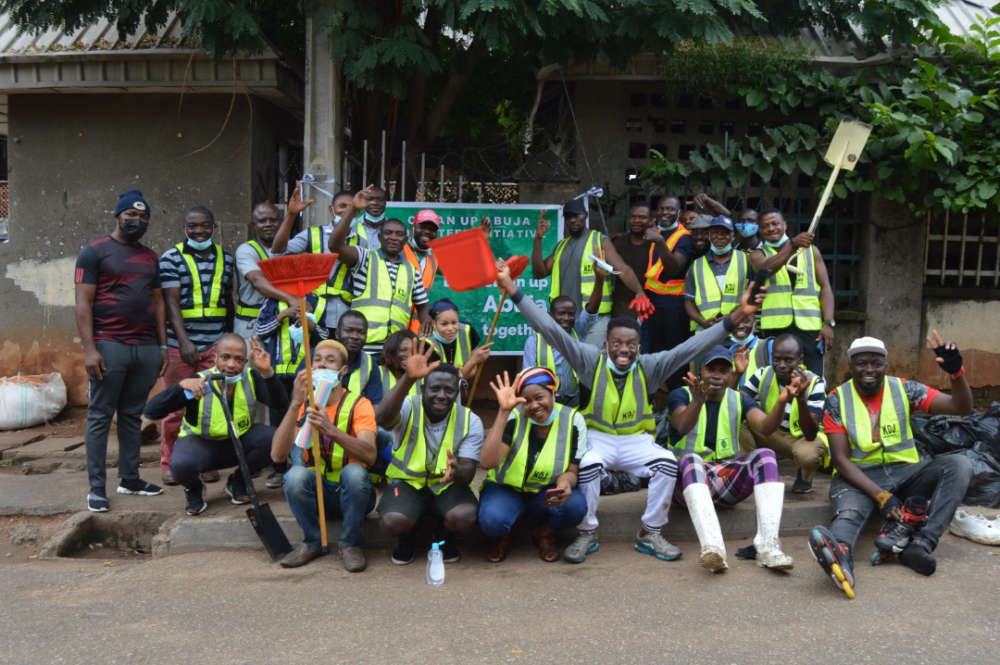 Is this enough?
"Anytime we return to clean, it appears nothing has changed," Fortune laments.
"The waste heaps are there, but we will not relent. Our advocacy is a mindset change of residents towards waste. We want to explore the options of sorting and recycling sustainable ways of waste management," he says.
Fortune talks of engaging more with the waste recyclers in the cleanup and raising funds to place refuse bins in public areas to discourage litter.
The Nigeria Info presenter is also advocating for the return of weekly or monthly environmental sanitation.
And as for the equipment they need to "dig deeper" in cleaning, a few construction companies are being sorted. Either way, Fortune is not relenting.
"The media platform I work for is a formidable platform to keep advocating for more action from authorities and everyone. The cleaner our streets the healthier we are.
"Authorities who claim 64 private companies are employed should live up to expectations. If people are ready to clean, they should be ready to clear the waste," The Mayor concludes with an air of defiance.