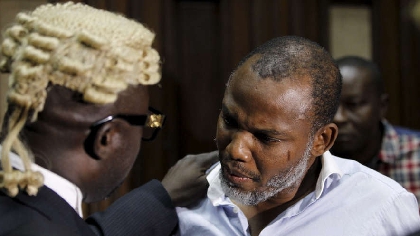 Detained leader of the Indigenous People of Biafra, IPOB, Nnamdi Kanu, has pleaded not guilty to the seven-count amended charge the Federal Government preferred against him.
Kanu, who was docked before trial Justice Binta Nyako, said he was innocent of all the allegations FG levelled against him after the charge was read to him in the open court.
Meanwhile, for the second time in about three months, the federal government has barred journalists from covering the case of IPOB leader, Nnamdi Kanu.
At the last adjourned date, there was an altercation between the operatives of the Department of State Services, DSS, and journalists.
Journalists covering the courts got to the court as early as 6 am but were prevented from gaining access to cover the matter.
According to one of the DSS operatives, they are awaiting directives from the trial judge, Justice Binta Murtala-Nyako, on how many journalists should be allowed to go in and cover the proceedings.
One of the DSS operatives who addressed a few journalists at the entrance of court 2, the courtroom where the proceedings is taking place said, ''The instruction we have is that journalists should stay in their press centre from where they would be screened to go in to cover the proceedings after getting clearance from Justice Nyako, the trial judge.
While the trial was going on on the 5th floor, journalists were not allowed to move out of their press centre.