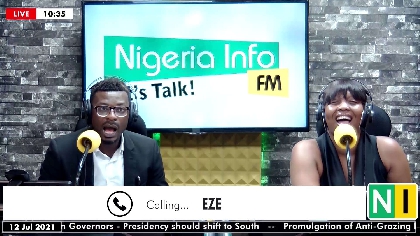 Sting Men Association is so last year. Welcome to the new school; The Mumu Men Association (MMA). 
There are two types of men in this world; those who have eaten 'vegetable' and those who choose not to enjoy the good things of life. Collins is a man who has eaten vegetable and knows how to enjoy the good things of life.
According to one of the hosts of Nigeria Info's Whaatsup Lagos, a 'mumu man' is one who actively participates in household chores in his home or family because he should. Gone are the days when chores are automatically assigned based on gender. "Everything should be discussed" says Mr. Teke.
The other host of the show, Andrea Odu-obi Teke couldn't agree more. Aligning to her co-host's thoughts, she said "The narrative that says men who do chores are weak needs to stop". And to that, they proposed a reclamation of the phrase "mumu men" to mean a supportive and responsible man who is available for errands around the home.
A number of callers already subscribed to the association and are already calling for Collins as president, though a certain Ibinabo called in to tell Collins he would give him a run for his money.
Listen to different confessions from some of these "mumu men" and their women here>>>