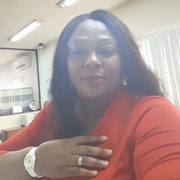 Show: Sports
Ngozi Ezeuduma is a passionate and also versatile sports presenter/analyst. Armed with a deep and broad knowledge of sports and also the ability to present with facts and still argue with passion, she informs and engages with her audience while keeping them entertained.
She is the Head of the Sports team (The Sports Gang) and daily hosts or co-hosts morning and evening sports shows (Sports Drive and Extra Time) and also the weekend Football Frenzy shows.
A wife and a mother of 3, she currently holds an MBA from the University of Nottingham.