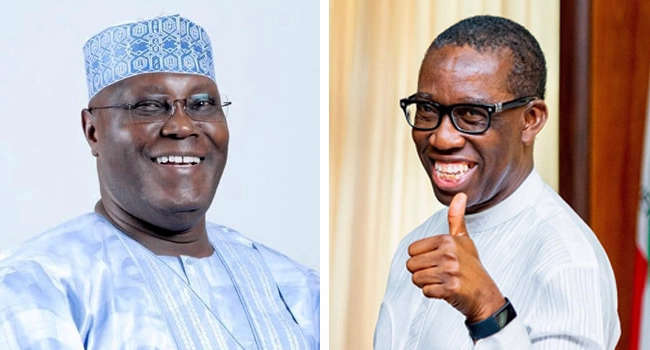 The presidential candidate of the People's Democratic Party (PDP), Atiku Abubakar has chosen Delta State Governor, Ifeanyi Okowa as his running mate.
He announced the choice of Governor Okowa at the party's National Secretariat in Abuja on Thursday after meeting with the screening committee.
Alhaji Atiku said Governor Okowa possessed all the qualities he needs in a deputy.
According to him, a Vice President must be able to complement the President and act accordingly in the absence of his principa
The former Vice President also stressed that all the options given to him by the party were competent, leaving him with a very difficult task.
After Atiku's announcement, the National Chairman of the party, Sen. Iyiorcha Ayu congratulated Governor Okowa and handed him an INEC form.
In his acceptance speech, the elated Delta State Governor said it was time the party began consultations and dispute resolutions in order to win the 2023 presidential election.
He expressed gratitude to Atiku Abubakar for picking him as his running mate among other qualified options.
The Thursday announcement finally put to rest uncertainties surrounding the Vice Presidential Candidate of the main opposition party, PDP.