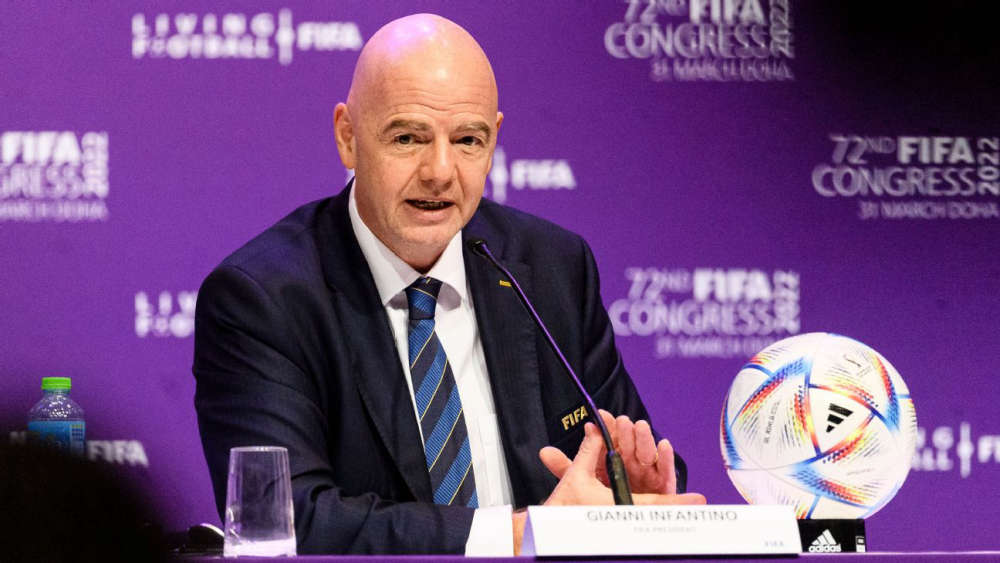 Following his re-election as football's number one man for another four years on Thursday, FIFA president Gianni Infantino has sounded the need for "way more" football.
The 52-year-old will stay on as FIFA president until 2027 after he was re-elected at the 73rd Congress of the governing body in Kigali, Rwanda on Thursday.
The Swiss succeeded Sepp Blatter in 2016, retaining the role in 2019 when he ran unopposed.
Speaking after his re-election at the congress, Infantino buttressed his stand.
"When I hear there is too much football, yes, maybe in some places, but not everywhere.
"In fact, in most parts of the world, there is not enough football played.
"We need way more and not less competitions, we want football to develop worldwide," he explained.
He added: "We are discussing organising a women's Club World Cup and a Fifa World Series in March every two years when teams are free from playing qualifiers."
Infantino's comments come in the wake of FIFA's decision to expand the 2026 World Cup in North America with the inclusion of 40 more matches to the schedule as announced by the governing body on Monday.
* FIFA Adds 40 More Matches to World Cup Schedule
This will see the tournament now have 104 matches rather than a projected 80 after Fifa opted against an earlier proposed format of 16 three-team groups. Instead, it will now be 12 groups of four.
Further calling for an improvement to the statutes of FIFA, Infantino also hinted at the possibility of introducing a salary cap to the game.
He said: "We will continue to evolve our good governance principles and look at the transfer system, and maybe have a discussion to improve transparency of transfer fees and salaries.
"It might be necessary to introduce a cap, we have to think how we can do that. We will look at it with all stakeholders and see what we can do."
Recall that during Infantino's time at the helm of affairs of football, the first ever winter World Cup was held in November 2022, and for the first time ever in the Middle East in Qatar.
He described it as the "best ever" World Cup.