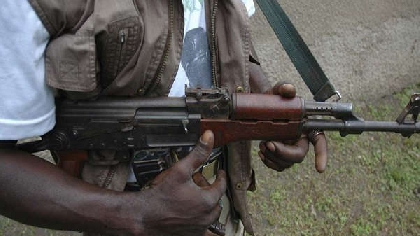 Three passengers have been abducted from an Abonnema-bound commercial bus along the Emohua/Kalabari Road in Rivers State.
The driver of the bus who escaped said a teenager and two adults were taken away Wednesday by gunmen at the popular Israel-Ama junction.
"I left at 8:05 precisely and by the time I drove down to a place called Israel-ama junction on the Degema road, I saw a torchlight at the abandoned checkpoint.
"By the time I got closer, I saw them push down the military checkpoint drums. So, the thing had to force the car to a stop.
"I was able to open the door and ran out and about two of them ran after me and I ran into the bush. There was one woman, one guy, and one small boy in the vehicle and they took the small boy," he said.
The driver also explained how another driver and his passengers escaped from the gunmen who use the abandoned Army checkpoint on the road to commit crimes.
"There was another car coming behind and it was when he observed, that he tried to reverse. I don't know how many passengers he had inside his vehicle.
"That was almost after 10 o'clock. I now ran to the military at the end of the junction, they now escorted me back to the checkpoint.
"By the time I and the military men got to the checkpoint, we couldn't find anything. That was what happened there," he told Nigeria Info.
Some of the drivers plying the Abonnema/Demaga/Emohua road are now threatening to withdraw their services if kidnapping is not urgently tackled.
They have called on the chairmen of the three kalabari-speaking local government areas and the Emohua council boss to immediately fulfill their promise of improving security on the road.
"Yesterday (Wednesday), they carried about five passengers on our road. This road has become a death trap, with no security.
"About four local governments make use of that road. Please they should bring back security to that road.
"Since it's our taxpayers' money that they use to service these military men, they should bring them back. We no longer have confidence plying the road again," one of them said.
Eight passengers and a driver were kidnapped from two commercial buses on the same road two weeks ago.
They spent two weeks in the hands of their abductors before regaining their freedom.